A Flavoursome Stew comprising Slow-Cooked Herbed and Marinated Chicken in a rich, spicy Tomato Sauce
.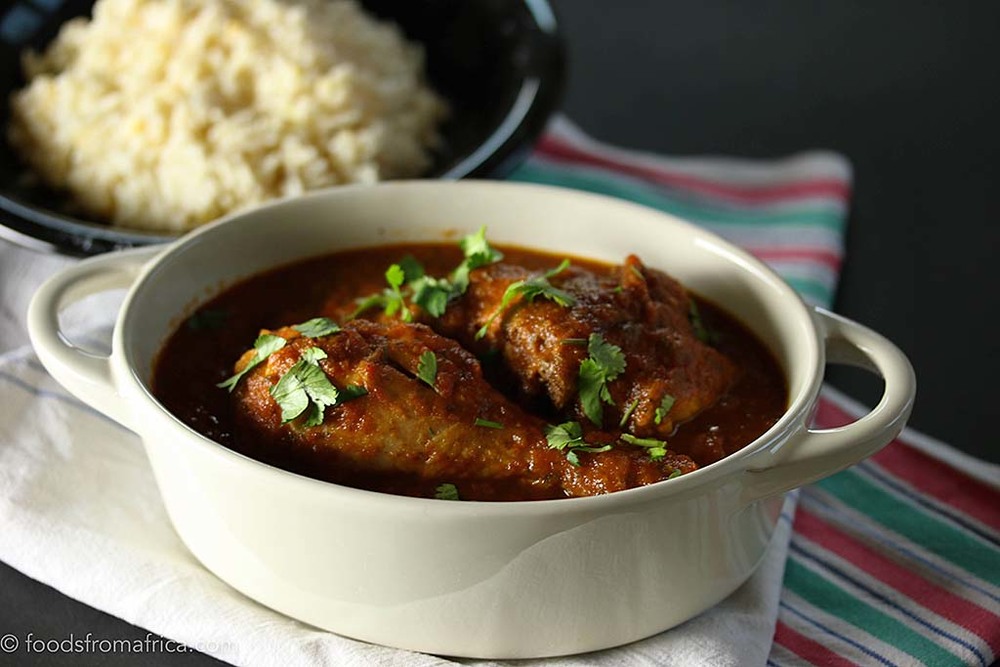 I'll make a bold statement – If you ask any West African to mention 5 most popular foods in West Africa, I can bet my big toe that tomato stew will be mentioned by all the respondents. It's easy to see why. Stews are very much interwoven into the culinary fabric of West Africa, and It is consumed daily by many.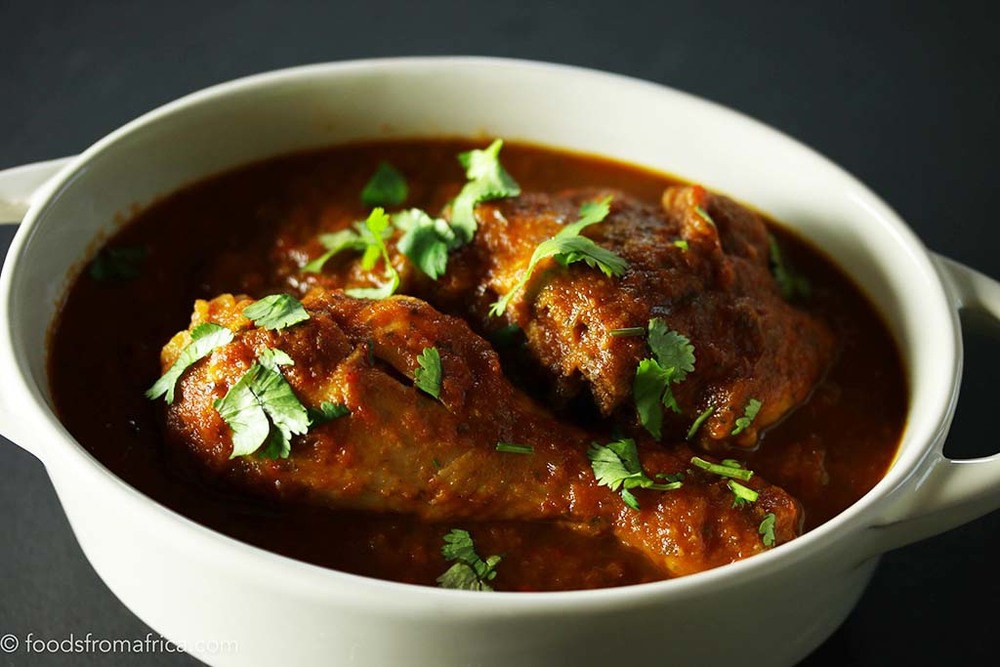 Versatile is another name for this dish. You can prepare it with any meat of your choice – popular variants include Beef Stew, Chicken Stew, Fish Stew, and Snail stew, and you can eat it in combination with many different foods – eba (Gari) and stew, rice and stew, plantain and stew – It is also not uncommon to find stews served mixed with soups – the combinations are endless! All that is needed is a little imagination.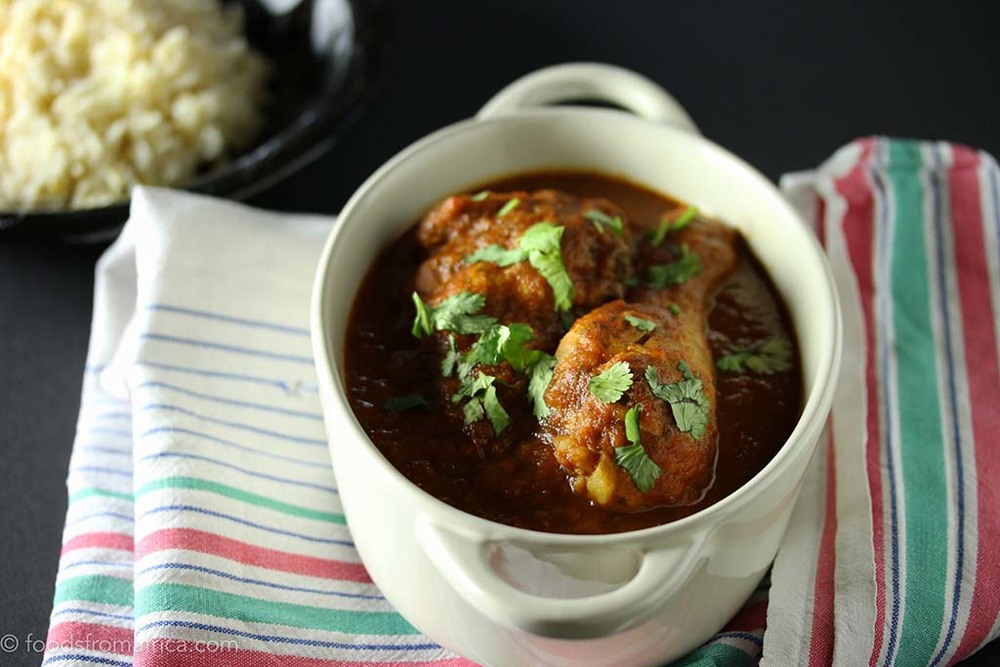 It's also one of those dishes that transcends categorisation – it is decadent enough to make the special occasions recipe list – in fact no Christmas feast is complete without a pot of stew – at least not in my household where I grew up in Southern Nigeria, but paradoxically, humble enough to be a daily staple tucked away in the refrigerator for emergency situations such as unannounced visits from relatives.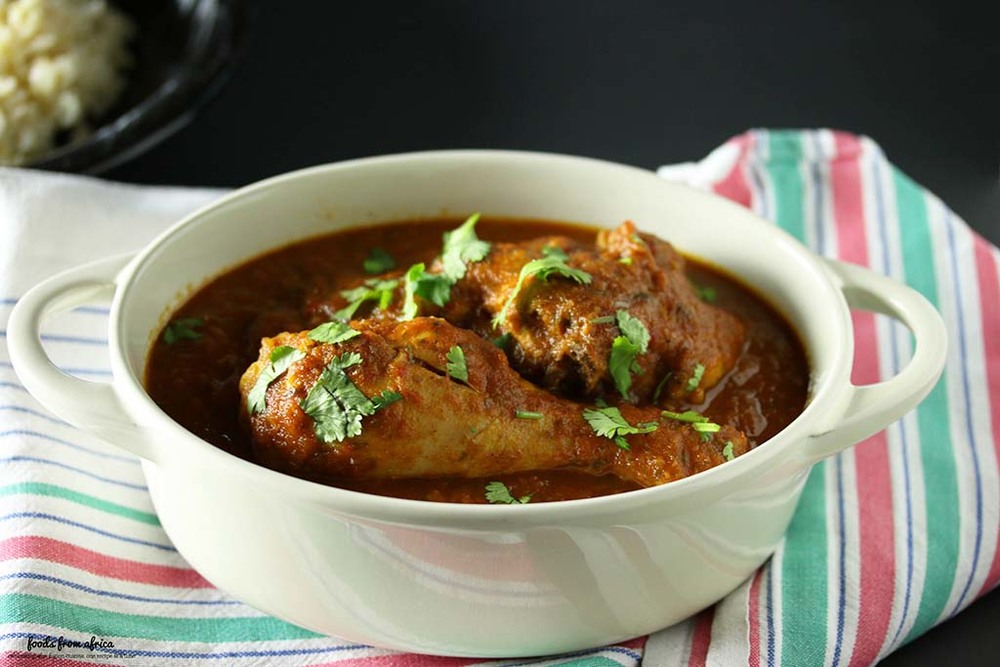 African stews are quite easy to make. It essentially boils down to simmering a blend of tomatoes, onions and bell peppers with spices to achieve a full-bodied sauce that is hearty and flavoursome – a perfect balance of all the flavours. I've tasted one-too many African stews and a common mistake is a recipe where the tomato overwhelms the rest of the ingredients, so the resulting stew is too sharp or acidic.
To whip up a perfectly flavoursome African stew, there are 3 steps you absolutely want to include in your preparations which I outline below:
Roast your vegetables first – If you want to dial up the flavour of the peppers and tomatoes exponentially, then this step is a must!
Brown your chicken – Browning the chicken teases out the flavours out of the meat, rewarding you with a stew packed with flavour
Simmer, simmer, simmer!
So now we are ready to go, here's the recipe below. Have fun making this!!
---
Chop the tomatoes, onions, bell pepper and garlic into large chunks. Drizzle 3 teaspoons of olive oil and a sprinkle of salt over the vegetables and roast in oven at 200 degrees for 18 minutes.

In a blender, In a blender, add the roasted veggies, basil, scotch bonnet pepper and tomato passata. Blend to a smooth consistency.

Season the chicken with salt an hour before cooking. When ready to cook, add 1 teaspoon of olive oil to a Dutch oven and when hot (but not smoking), fry the chicken on medium heat for 2 - 3 minutes per side to brown. Remove chicken from oven and set aside.

To the remaining oil in the dutch oven, add the pureed vegetables and fry for 2 - 3 minutes on medium heat. Add a stock cube (and salt if needed - I don't think it will be - but be guided by your palate) and paprika, turn the heat to low - medium and simmer covered for 30 minutes.

Add the chicken to the sauce, cover and continue to simmer for another 45 minutes. Taste after 45 minutes and add a teaspoon of brown sugar if needed. Simmer covered for another 5 - 10 minutes.

Serve with rice and steamed vegetables.
Is this recipe right for you?
Nutrition Facts
Traditional African Stew
Amount Per Serving
Calories 275
Calories from Fat 117
% Daily Value*
Total Fat 13g 20%
Cholesterol 54mg 18%
Sodium 511mg 21%
Potassium 958mg 27%
Total Carbohydrates 23g 8%
Protein 20g 40%
* Percent Daily Values are based on a 2000 calorie diet.
---