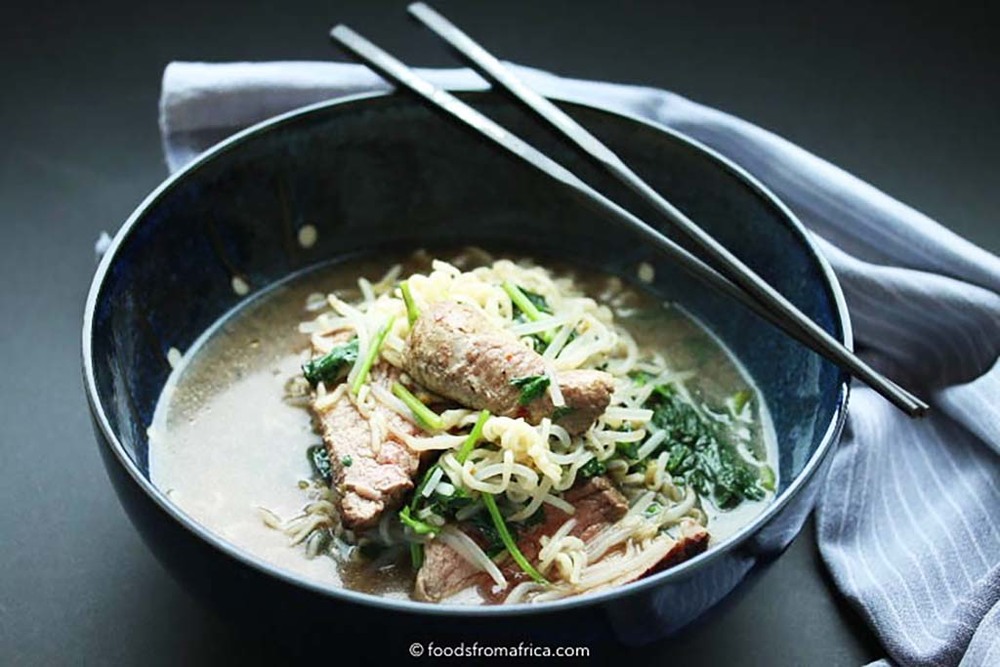 Let me introduce you to one of the most prolific and versatile soups in Nigeria – Pepper Soup. If you haven't come across Nigerian Pepper Soup – let me break it down to you. This soup is a simple broth – a consommé comes to mind – with very complex flavours. It is usually made with chicken, fish, beef or assorted meat (which is a way of using up different cuts of meat including the innards), and the complex flavours are courtesy of the mix of traditional spices from which this dish derives its signature.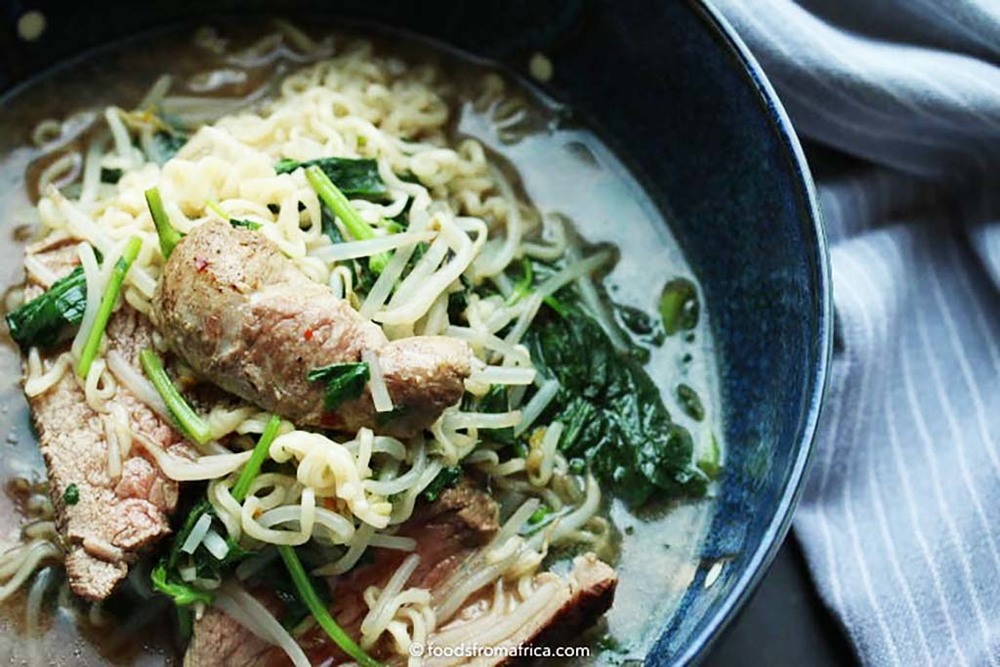 Another defining characteristic of this dish is in the name..Nigerians really take the name "pepper" in Pepper soup literally. Boy, this soup is as spicy as it gets. Many years ago when I lived in Nigeria, I could easily tolerate the heat in a traditional Nigerian pepper soup. However, living in the diaspora for the last few decades has tamed my "spicy tooth" somewhat (although my favourite lunch-time Thai restaurant Talacker Bar in Zürich would beg to disagree, as I am always requesting extra chilli), as two years ago when I visited Nigeria, I ended up spending the best part of an evening in the bathroom after consuming a rather spicy pepper soup at a local restaurant.
I talked about versatility earlier, and by that, I mean this soup is all things to all people. Every respectable pub or bar has its own house Pepper soup on tap – the perfect accompaniment to a cold glass of Gulder or Guinness Beer. Wedding feasts, Naming ceremonies are not complete without Pepper Soup. The old folks will tell you it is the cure for malaria, colds, and/or any form of aches and pains that one may have. New mothers will often receive more than one bowl of pepper soup from relatives to speed up the post-birth recovery process.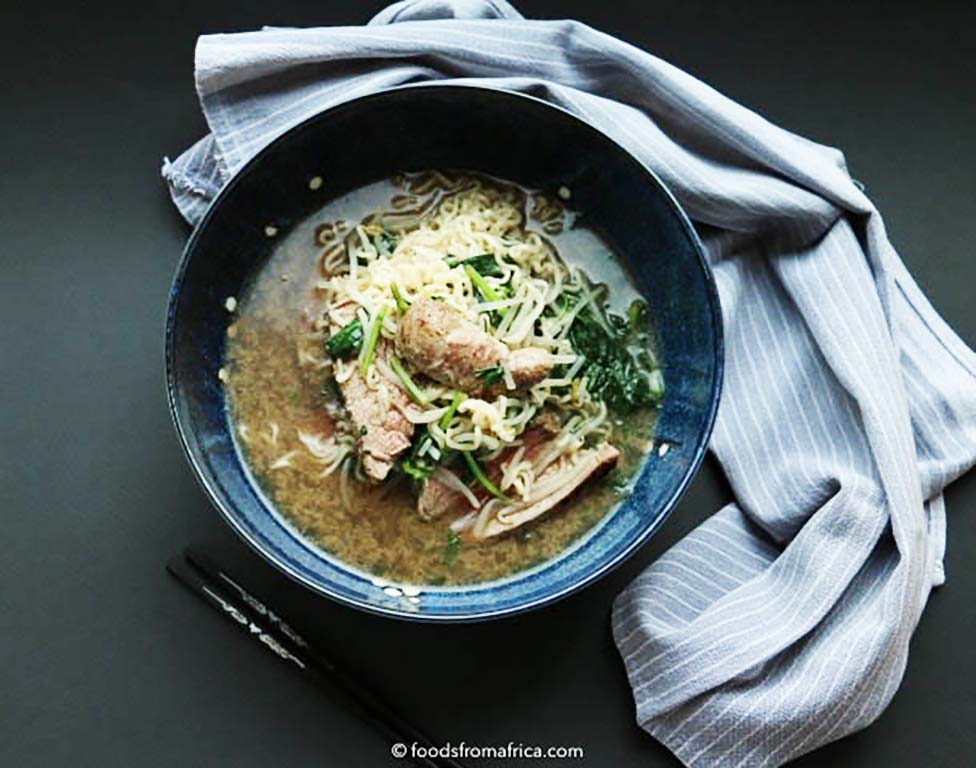 I don't think pepper soup possesses these supernatural abilities (whisper!), however, the spices used (African Negro pepper, Alligator Pepper and Jamaican Nutmeg) are ancient spices that have medicinal qualities that are beneficial to the general wellbeing – so maybe that's it?The hot and spicy nature of this soup is one that lends itself well to being sipped on a cold winter's evening, but for me, an African living in the Diaspora, Pepper Soup is so reminiscent of home, that the ability to recreate it in my alpine kitchen in Switzerland, is a symbolic amalgamation of two distinct facets of my life – and so, I have given myself the permission to enjoy my pepper soup on a warm summer-like day in month of May.
Knowing me as you do by now, I have "jazzed" it up – you know – given it that Afro-fusion twist that I am all about. For starters, I made the base with bone broth. Y'all know the benefits of bone broth right – so I kinda upped the ante on the traditional peppered-water base used in pepper soup. My meat of choice was roasted grass-fed fillet of beef, which was browned to seal in the juices and roasted till rare, topped with ramen noodles – because we just love ramen noodles in Nigeria!
---
Prepare your fillet of beef for cooking, by rubbing a teaspoon of extra virgin olive oil over the meat and then sprinkle some salt and black pepper (optional).

Place a medium-sized skillet on the heat. Add a teaspoon of extra virgin olive oil to the skillet and when hot, transfer the beef to the pan and fry for approximately 5 minutes while turning the meat in the pan to ensure all sides are thoroughly browned. Remove from heat, cover and set aside. Pre-heat your oven to 180 degrees Fan-assisted or 200 degrees celsius.

Add the chopped onions and garlic to the skillet and fry for 2 - 3 minutes to release the aromas. Add a little bit of the bone broth to the skillet to deglaze the skillet, and then transfer the contents of the skillet to a Dutch Oven.

Add all the bone broth, stock cube, scotch bonnet pepper, and salt. Reduce the heat to medium and allow to simmer covered for 15 - 20 minutes.Transfer your browned fillet to the oven and roast for 10 minutes.

While the meat is roasting, prepare the ramen noodles according to the package instructions. Do not overcook the ramen. They should be slightly al-dente.Remove from the oven and slice the beef into 1cm - 2cm thick slices. The beef should be cooked rare at this point.

Transfer the beef slices, chopped basil, and ramen noodles into the Dutch oven. Allow to simmer for another 3 - 5 minutes.
Is this recipe right for you?
Nutrition Facts
Nigerian Beef and Ramen Peppersoup
Amount Per Serving
Calories 503
Calories from Fat 189
% Daily Value*
Total Fat 21g 32%
Monounsaturated Fat 0.03g
Cholesterol 63mg 21%
Sodium 2194mg 91%
Potassium 141mg 4%
Total Carbohydrates 46g 15%
Protein 33g 66%
* Percent Daily Values are based on a 2000 calorie diet.
---