Vegan and Gluten-Free African Garden Egg (Eggplant) is Simmered in a Creamy Coconut Sauce for a Quick and Healthy Weekday Dinner
.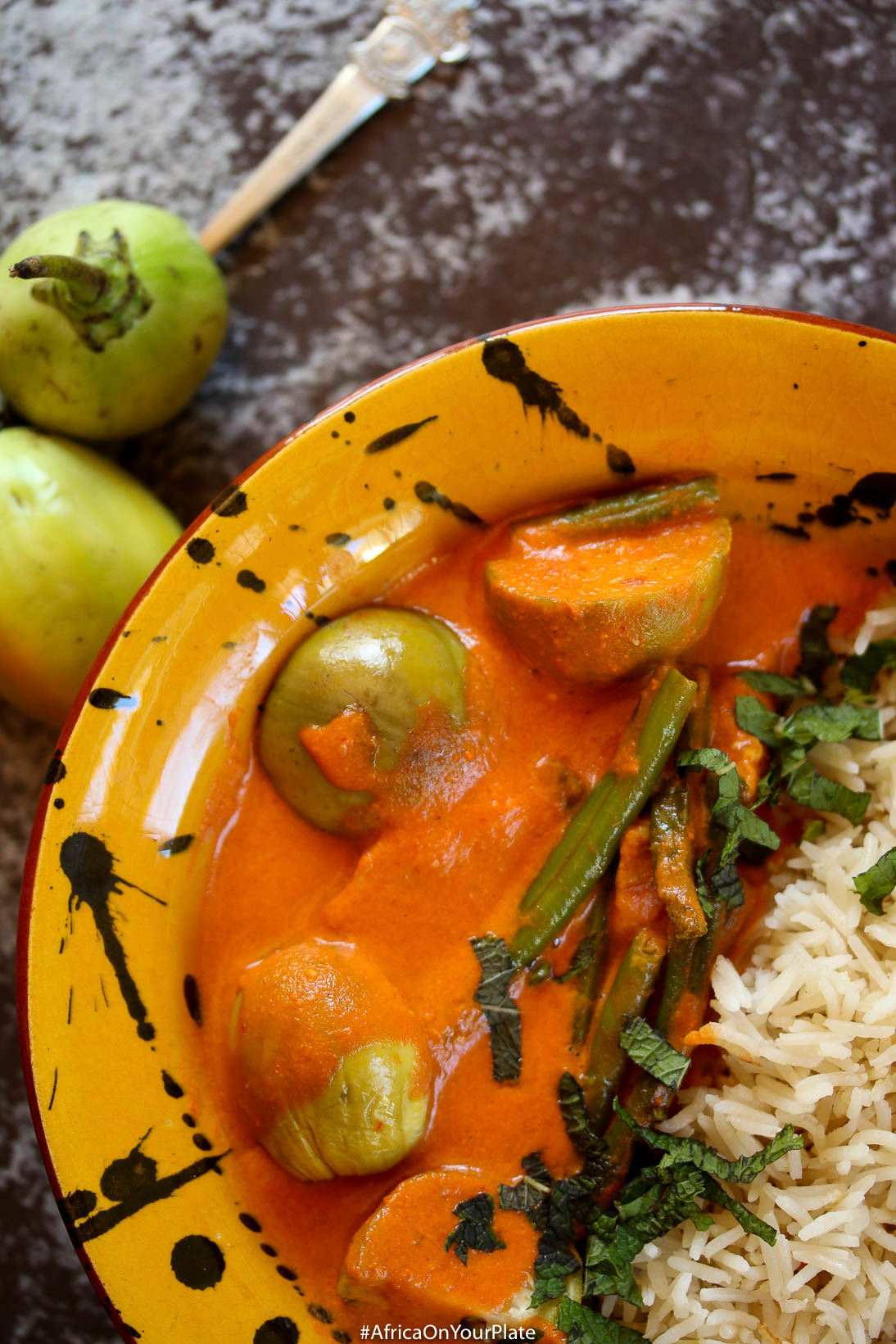 .
Growing up in West Africa, there are fewer vegetables more prolific than the African Garden Egg (Eggplant). They seemed to always be in season, because they were everywhere, every-time.  Back then, and even today, every other street vendor at every traffic-light induced or chaos-induced bottleneck on the roads was, and is an African Garden Egg seller. There was just no escaping them. Now, I know, they are always in season, as they are cultivated as an annual plant.
The African Garden Egg (Eggplant) goes by different names; mock tomato, scarlet eggplant, Ethiopian eggplant, African bitter pea-aubergine, wild pea-aubergine, to name a few. They are eaten almost on a daily basis in African households, and they form part of the traditional sub-saharan African culture. Ancient folklore and provenance has it that these fruits represent fertility and blessings. As such, they feature prolifically as tokens of goodwill at traditional wedding ceremonies, child naming ceremonies and other social events or visits.
Wide variations exist within the African Garden Egg (Eggplant) species, but most of these fruits are oval, with the tops and bottom flattened out. The immature/unripe fruits are greenish in colour, and they turn reddish-orange when ripe. The African Garden Egg (Eggplant) has a distinct bitter taste, which intensifies as the fruit ripens.
.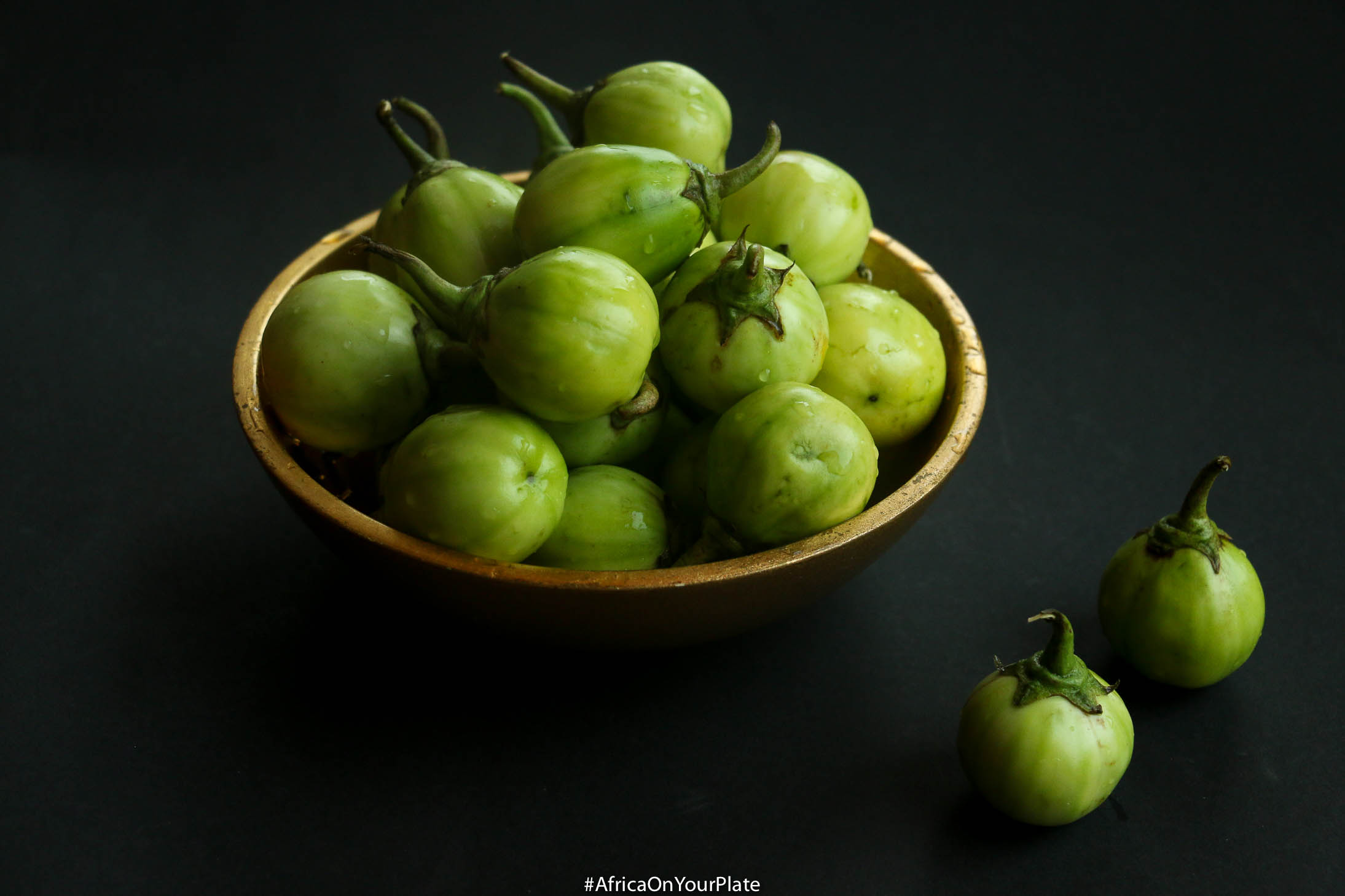 I was never a fan of the African eggplant for one simple reason – it's characteristic bitter taste – which was more than enough to confine the African eggplant to the gallows, never to be resurrected, in the mind of an eight year old. Lately however, i find myself pondering, testing and challenging some of the long held beliefs I have harboured about some African vegetables. Take the African garden egg as a case-in-point. Would my adult palate come to the same conclusions as my 8-year old self had done many many years ago? My curiosity had been ignited, and so when I had the good fortune of picking up some fresh African garden eggs a few days ago, I was excited and nervous at the same time.
Nutritionally, the African Garden Egg (Eggplant) hasn't got a lot going for it. They contain small amounts of protein, some beta-carotene,  and vitamins B and C. However, what the African Garden Egg (Eggplant) lacks in nutrients, it makes up for greatly with its other attributes. It is low in calories, high in fibre, especially a good amount of cholesterol-lowering pectin, and high in potassium, making it every dieter's dream.
Anyway, back to my experiment, hindsight is a beautiful thing because I soon found had nothing to be nervous about. The speed with which this dish disappeared shortly after cooking led me to conclude that my appreciation of the African garden egg has little to do with the worldliness of my palate.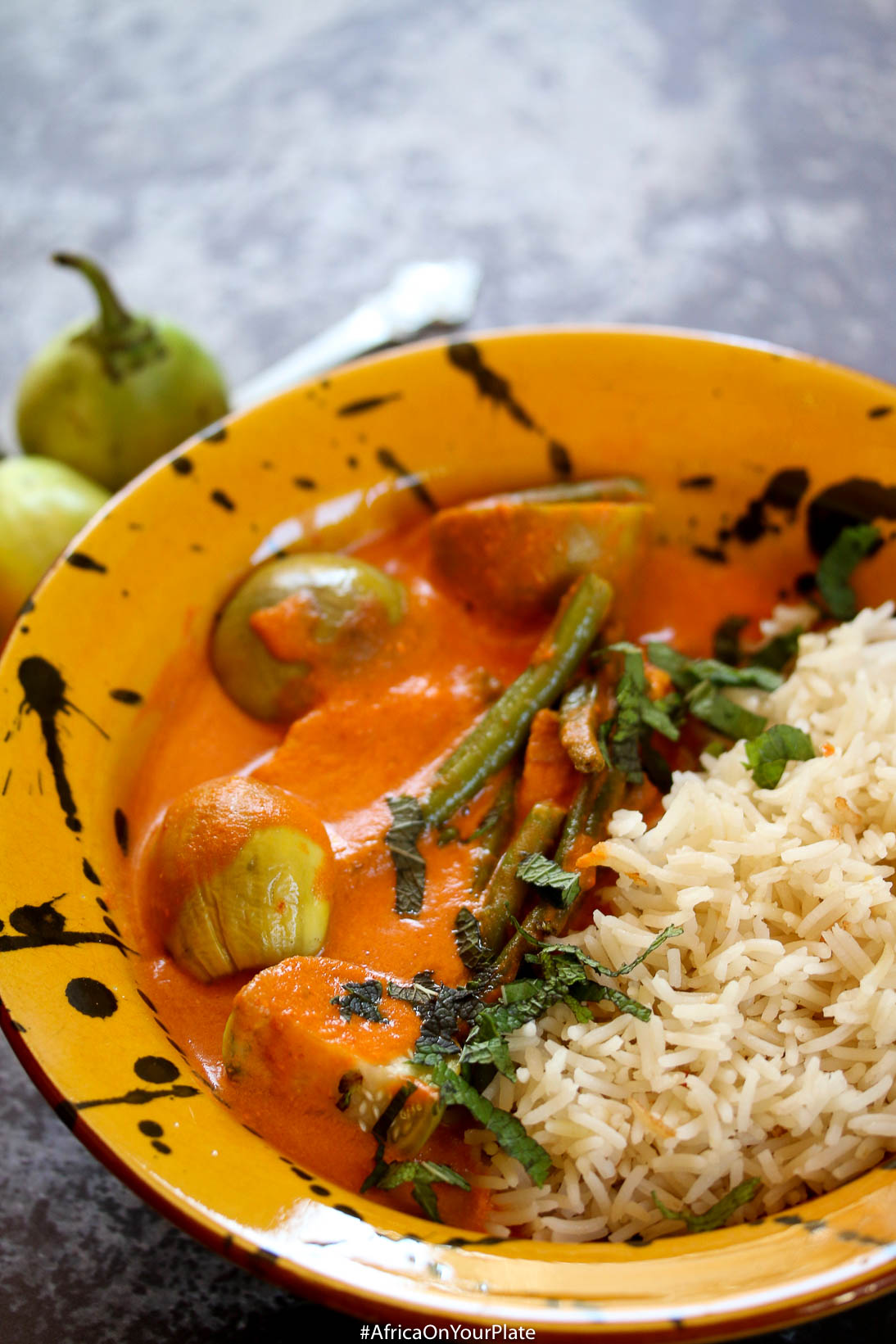 Rather, I think (rather convincingly) that my appreciation of the African garden egg is the result of the combination of flavours in this recipe that work so well together, all complementary of each other, and importantly, a culinary tip.  Which is to mash the eggplant after boiling. Mashing allows the African Garden Egg (Eggplant) to absorb better the other flavours in the dish, which vastly improves the bitter taste.
Yes, the African Eggplant, after all these years (since I last tasted them), still has that slightly (or very) bitter taste…or after-taste, which is vastly improved by mashing. It still is that crunchy, slightly bitter fruit when eaten raw, and it still morphs into a grayish-brownish murky ball when cooked – just like its cousin, the Eggplant or Aubergine does.
They are mild in flavour and they certainly don't light up the meal on the plate—once cooked they usually end up a brown and squishy mass. But steam it for fifteen minutes in a coconut milk and tomato sauce with some seasonal vegetables for company, and you have an eggplant dish that will have you reaching out for seconds and thirds…
Keep it vegetarian, and thanks to the African eggplant in the dish, you wont even miss the meat!
Meatless Monday, here I come!
.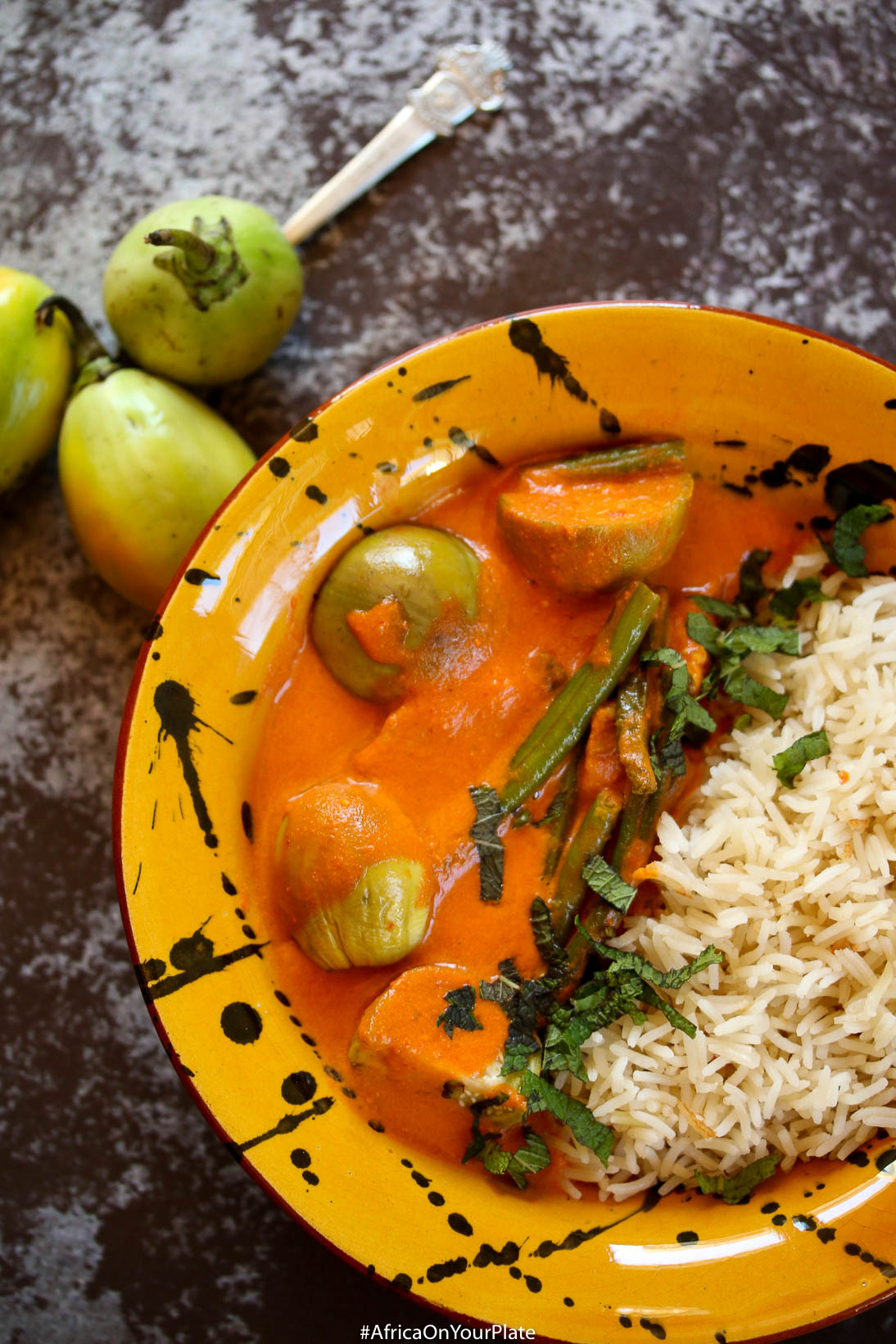 .
---
Heat a skillet on the hob and when hot, add the coconut oil, and let sizzle. Then add the chopped onions, garlic, and grated ginger and fry while stirring constantly, for 3 - 5 minutes until the onions are soft and translucent.

Add the red curry paste, and continue frying and stirring until the spices are fragrant. This should take another 2 - 3 minutes.

Add the coconut milk and tomato passata. Stir to combine. Then add the vegetables - garden egg, green beans, baby corn, including the lemongrass sticks and the peppers. Cover and reduce heat and allow to simmer for fifteen minutes.

Gently scoop out all the garden eggs into a bowl. to a third of the garden eggs, chop them into quarters, and return to the pan to simmer. To the rest of the garden eggs, use a masher and mash the garden eggs, and then return to the sauce. Allow to simmer for another 10 minutes. Remove from heat and serve.
Is this recipe right for you?
.
Nutrition Facts
African Garden Egg Curry Sauce
Amount Per Serving
Calories 273
Calories from Fat 180
% Daily Value*
Total Fat 20g 31%
Sodium 263mg 11%
Potassium 546mg 16%
Total Carbohydrates 22g 7%
Protein 4g 8%
* Percent Daily Values are based on a 2000 calorie diet.
---
.
To purchase some African Garden Egg (Eggplant) in the diaspora, try any African or Ethnic food store around you or try Deeskus to shop online for African Eggplants in brine. Let me know what you think of this recipe!
.

.

Related posts: