Sweet Beets and Savoury Chickpeas Come Together To Create A Luxurious Egyptian-Style Dipping Sauce
.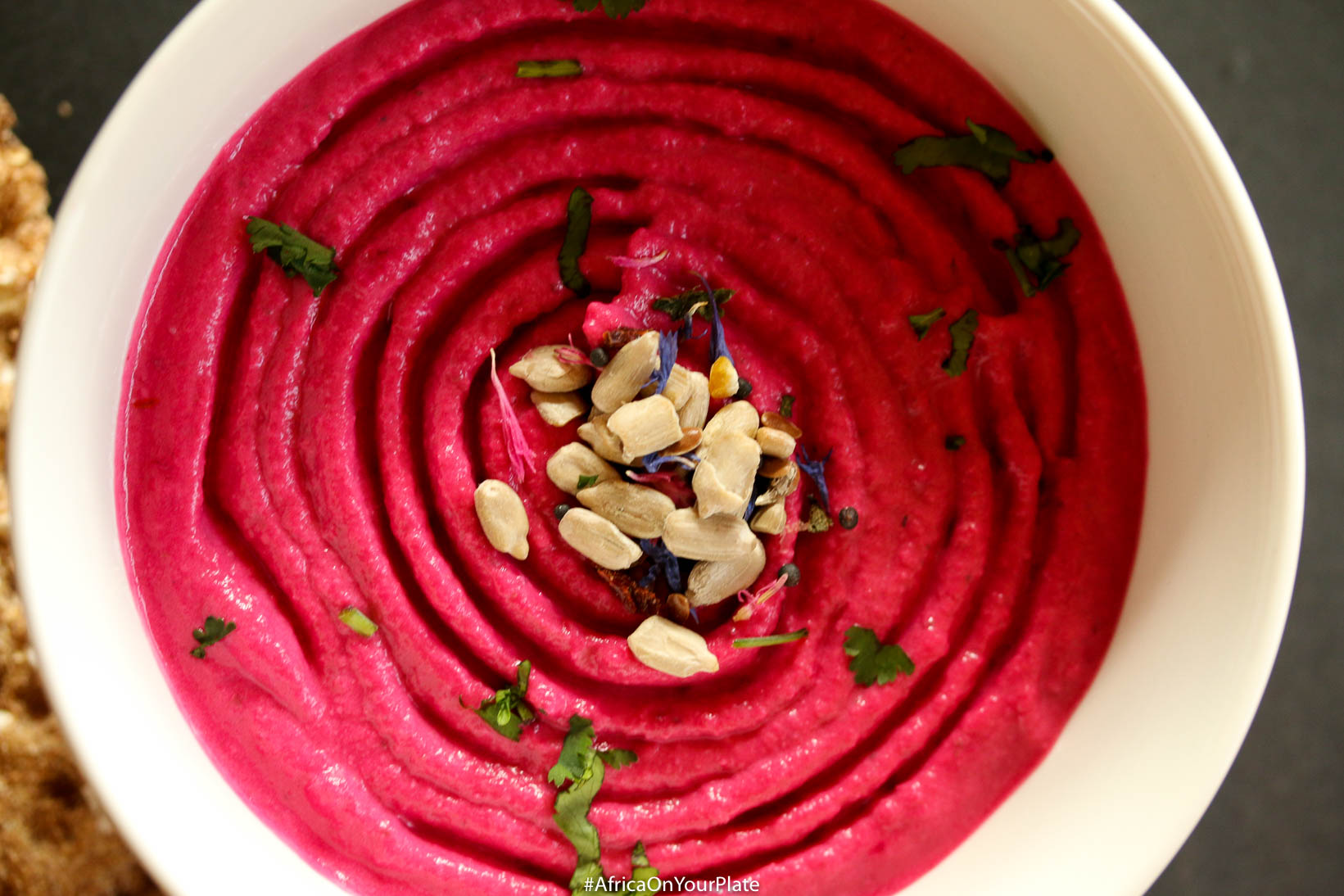 .
The last time I took stock of my apartment, I found two fussy eaters, in addition to the husband, the furniture and fittings. And fussy eaters et al, I can honestly tell you that oven-roasted beets have now become a staple in my kitchen. But it did take a while to get to this point – I can assure you!
First, I had to get those two (the fussy eaters I mean) to quit eyeing my prized beets so suspiciously (they thought it looked more like a cartoon character than something one ate).  Although we quickly got past that point once the beets were oiled and roasting away in the oven.
.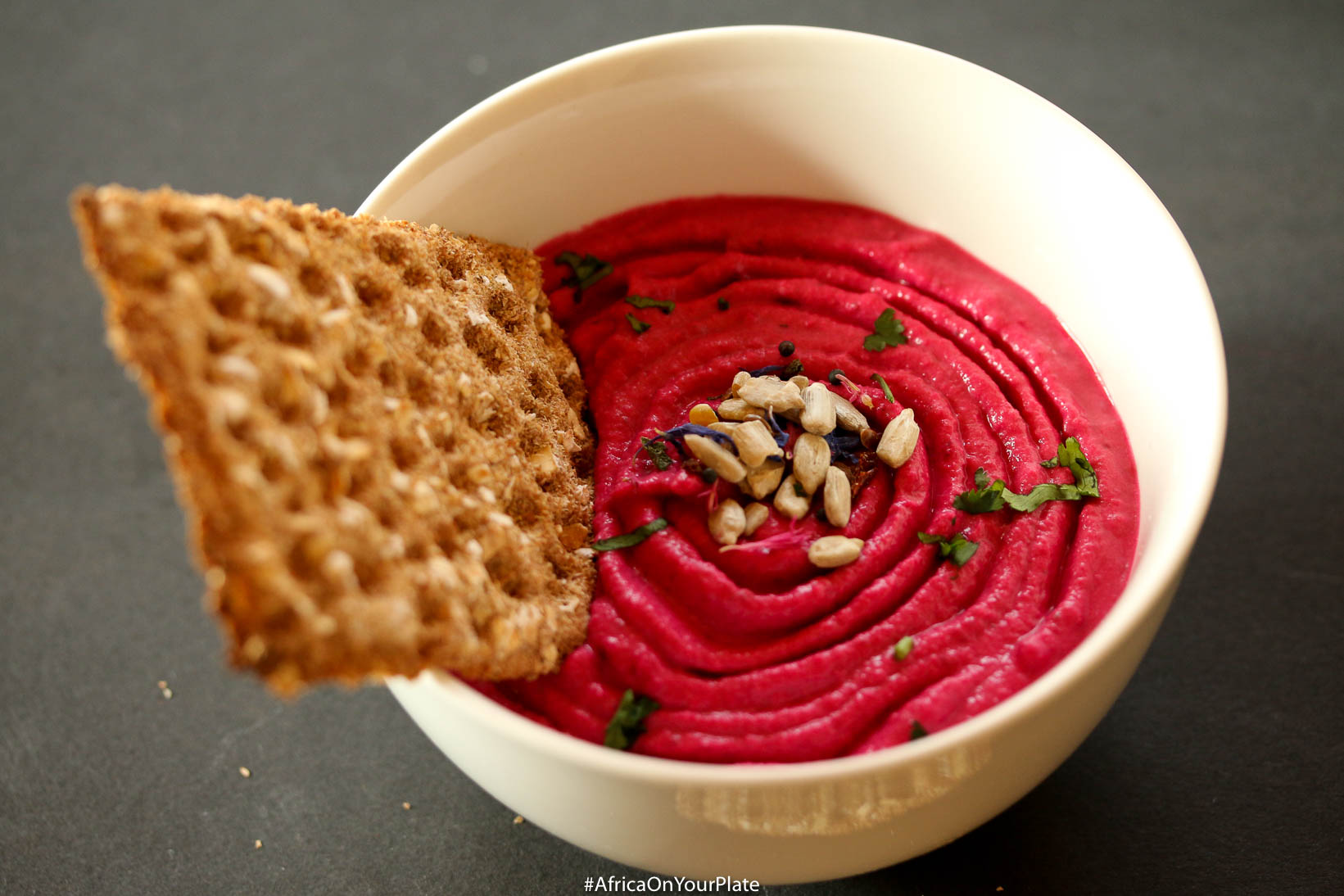 .
It 's little wonder that my kids love beets. It is easy to love beets. They are amazing vegetables with lots of vitamin C, folic acid and potassium. They have a sweet and earthy flavour and are incredibly versatile to prepare. You can boil, grill, or even eat them raw, but to get the most out of a beet and its flavours, roast them! That's my little secret with preparing beets.
Roasting caramelises the natural sugars, which beets have a lot of, which results in intensified flavours. I usually roast my beets whole. Just oil 'em, salt 'em, wrap 'em in foil, pop 'em in the oven, and put your feet up.
.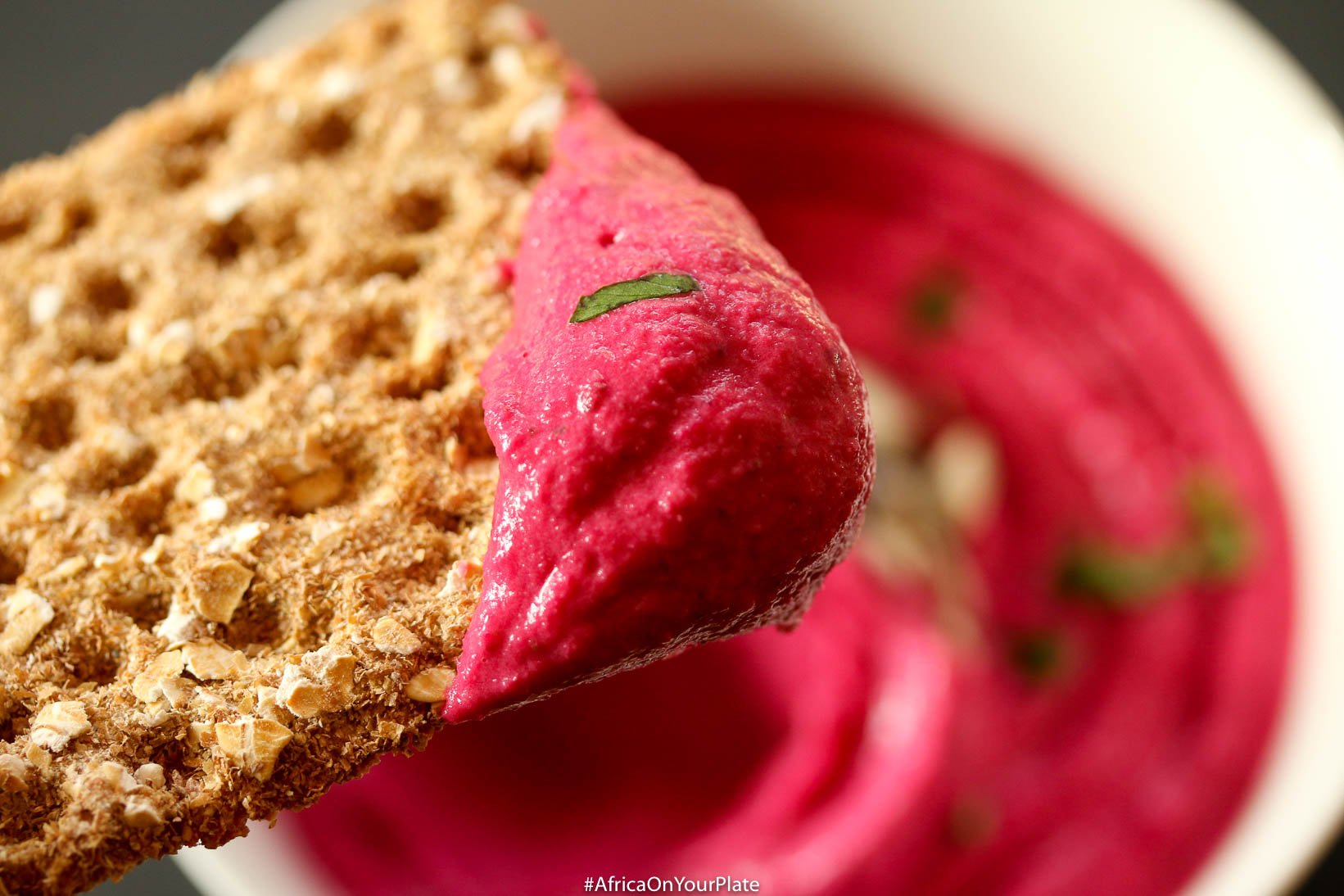 .
Oven-roasting fresh beets is the easiest and the best way to cook beets.
Click To Tweet
.
Not only does the roasting concentrate and enhance their sweetness, roasting also makes their skin slip off easily after cooking. Now, my kids are hooked on beets, in part, because of the deep sweet taste that even these two can not resist, but also in part from the after-effect, judging by the squeals of delight I overheard the next day coming from the toilet…
.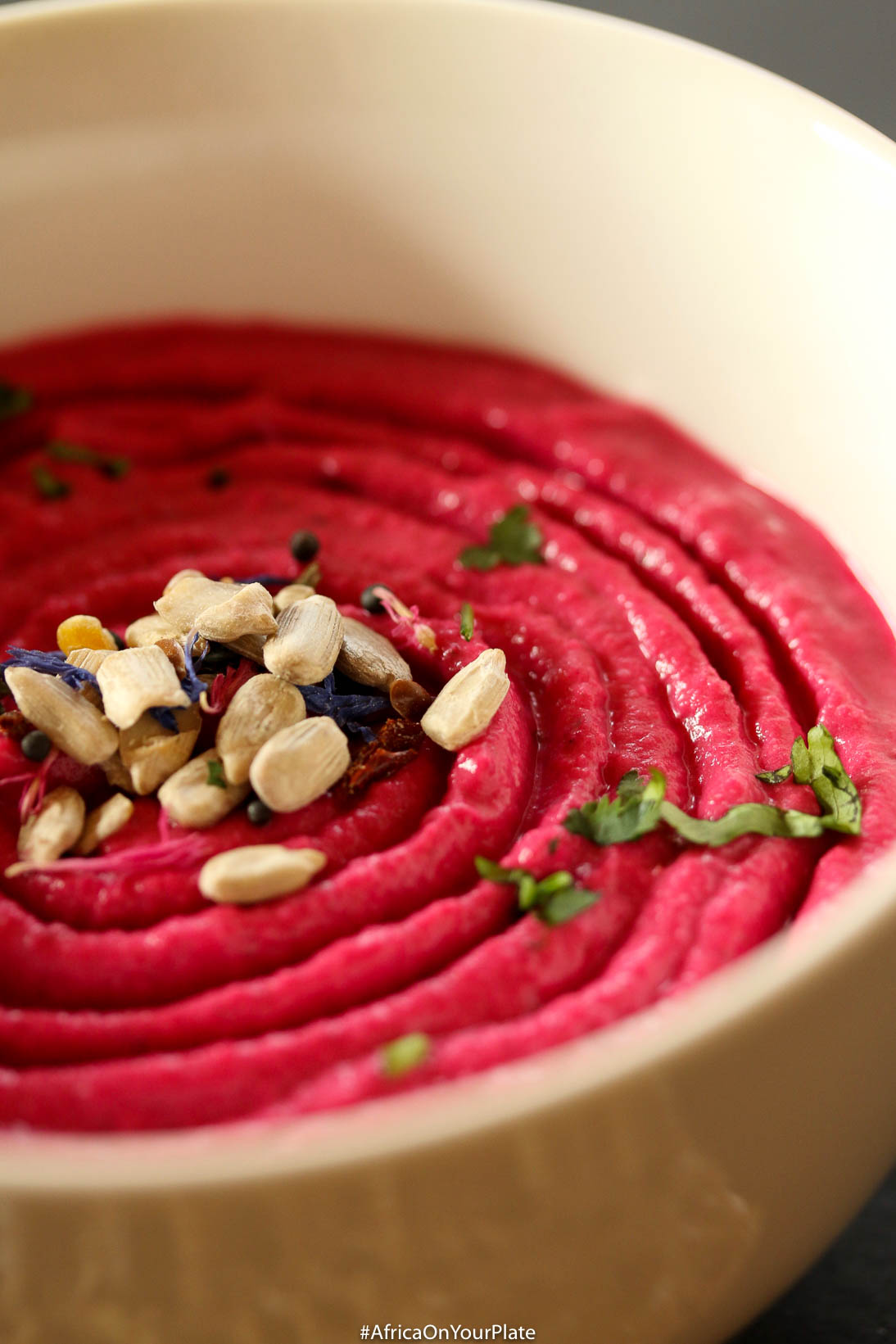 .
---
.
Soak the dried chickpeas in enough water to completely cover the chickpeas for a minimum of 17 hours.

When ready to cook, discard the soaking liquid and transfer the chickpeas into a pan. Cover with fresh water and boil on medium heat until soft. This should take about 2 hours.

Drain the chickpeas, ensuring you reserve the cooking liquid (aquafaba). Then peel the chickpeas, and set aside.

Pre-heat oven to 180 degrees centigrade (fan-assisted) or 200 degrees centigrade if not fan-assisted.

Coat the beetroot with the olive oil, ensuring the oil is well distributed over the beetroot. Sprinkle some salt and black pepper over the beet.

Wrap beets in foil, place on a parchment sheet, and roast in the oven until cooked through, approximately 45 to 60 minutes.

Remove from the oven, and leave to cool for 5 - 10 minutes. While the beet is still cooling, and cool enough to handle, peel the skin off, then dice the beets, and set aside.

Add the tahini and lemon juice to a blender and blend for 2 - 3 minutes until the tahini mix looks like whipped cream. This step is vital for a creamy hummus.

Then add the peeled chickpeas, diced beets, roasted garlic, salt, pepper and blend until smooth.

Then add several spoons of the aquafaba and blend till you reach your desired consistency
To test the beet for done-ness, prick the beet with a fork. The fork should pierce and sink into the beet easily with no resistance.
To test the chickpeas for done-ness, take one chickpea in between your thumb and index finger. Press gently. When done, the chickpea should give easily under the light pressure from your fingers.
To roast the garlic, start with a bulb of garlic which has been cut at the top to expose the garlic inside. drizzle one teaspoon of olive oil over the bulb. Wrap in foil and bake at 200 degrees centigrade for 20 - 30 minutes until the garlic is soft, and comes out of its shell with a gentle press.
.
Is this recipe right for you?
.
Nutrition Facts
Oven-Roasted Beet & Chickpea Hummus
Amount Per Serving
Calories 270
Calories from Fat 162
% Daily Value*
Total Fat 18g 28%
Sodium 379mg 16%
Potassium 365mg 10%
Total Carbohydrates 21g 7%
Protein 10g 20%
* Percent Daily Values are based on a 2000 calorie diet.
.
---
.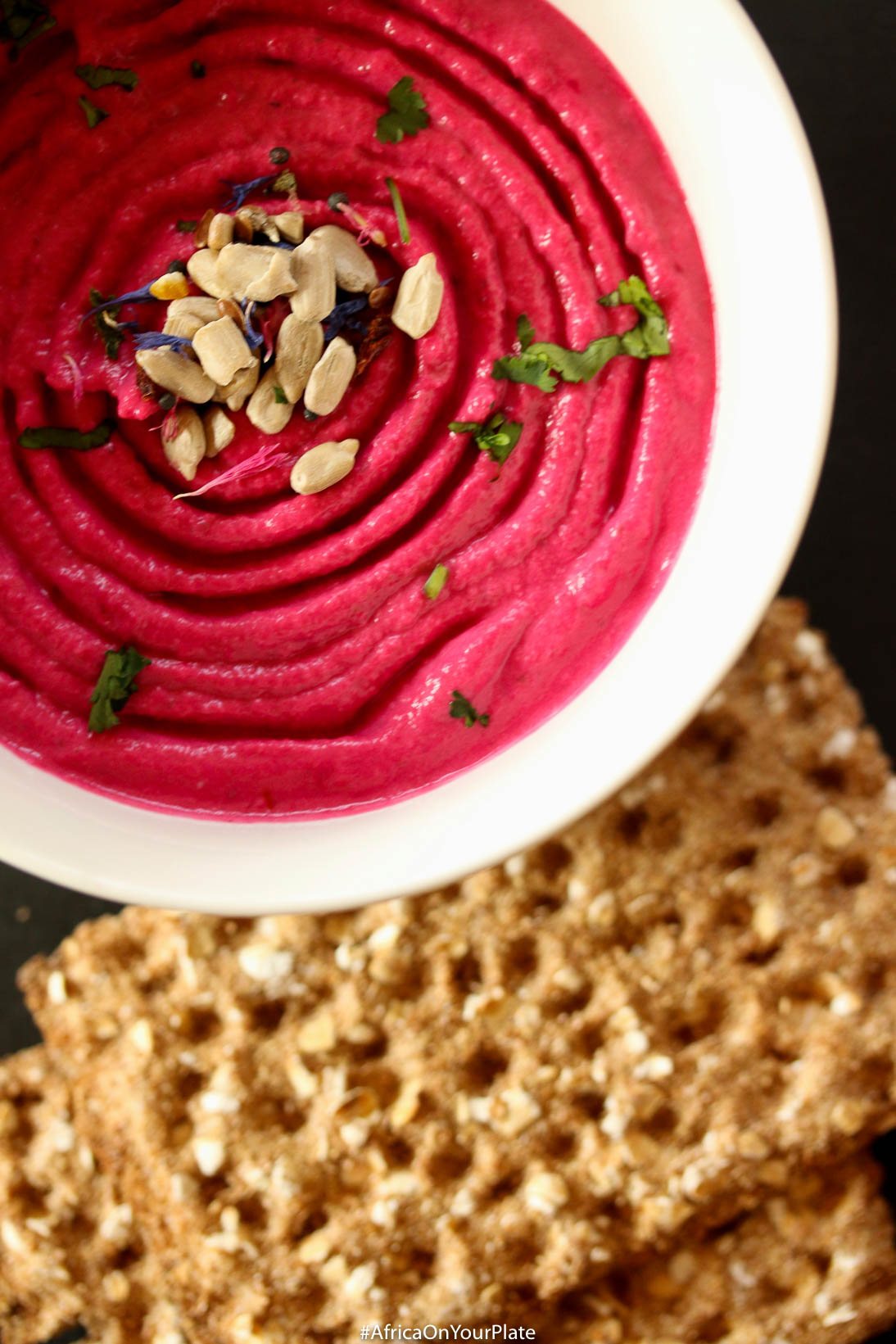 .
Beets and Chickpea hummus? Because dips should be luxurious and decadent…It's the only way the ancient Egyptians would have had it..What 's your verdict?
.
Laters,
.
Emem..xo