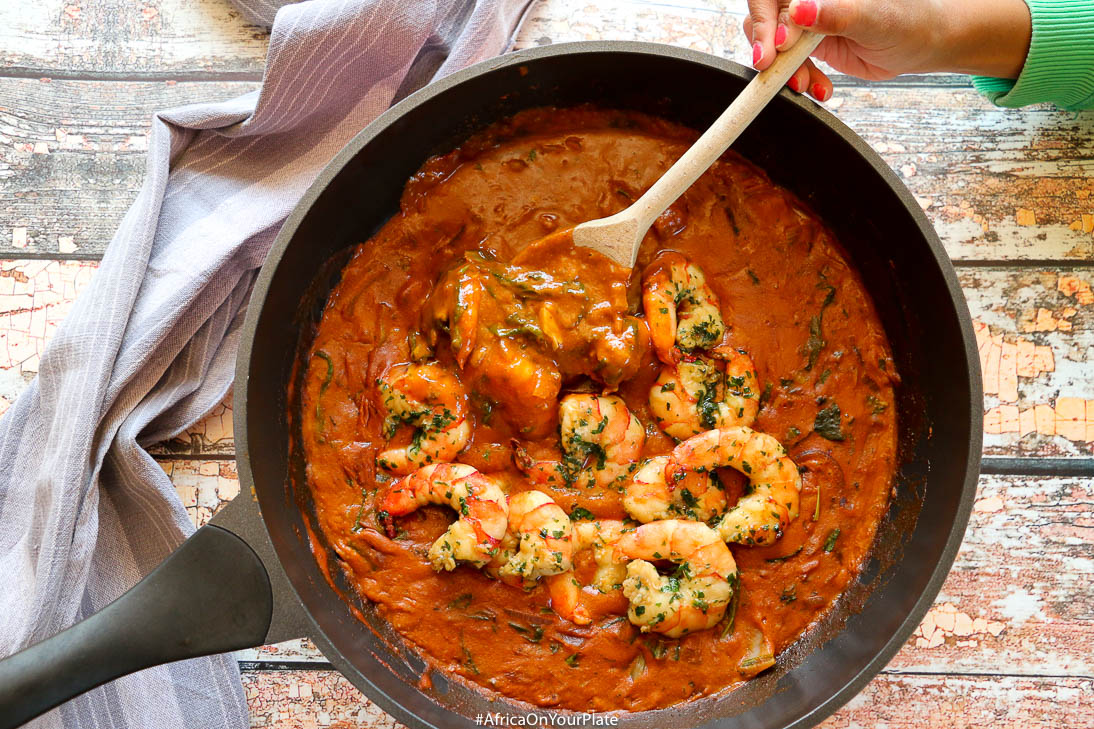 .
This recipe might bring to mind, a sauce made from the well-known, green or yellow-skinned mango fruit. But, this is not the case. The mango kernel in this recipe is the seed of the Wild Mango fruit, also called African Mango, Dika, or Ogbono, and I have been on a mission this year to introduce Le Hub to these little kernels. Indigenous to West Africa, the African Mango Tree produces a small green and yellow fruit that looks, at first glance, like a small mango. Doesn't it just?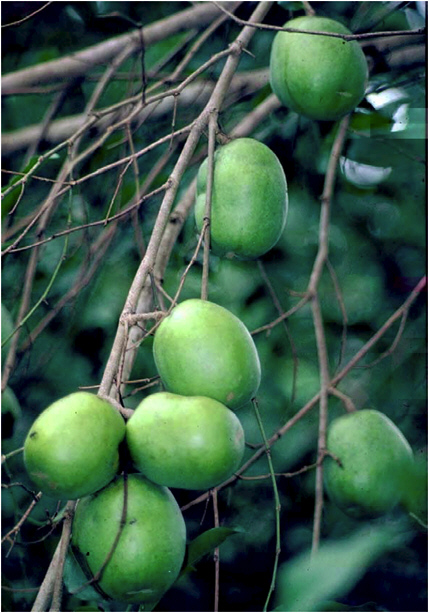 .
The fruit has a sweet and sour flavour combination and can be eaten fresh off the tree, or made into jelly. Lately, it is being processed into the African Mango juice because of its unique flavour combination, and sugar content which compares to the sugar content in pineapples.
However, the golden nugget of this fruit is in its seeds, which can be obtained by cracking the fruit open. The seeds resemble smooth walnuts, are very aromatic, and can be eaten raw or roasted. Lately, research has found wild mango seeds to be very beneficial in lowering cholesterol, blood sugar and aiding with obesity and weight loss. With that effect on blood  sugar, I need no further convincing..
.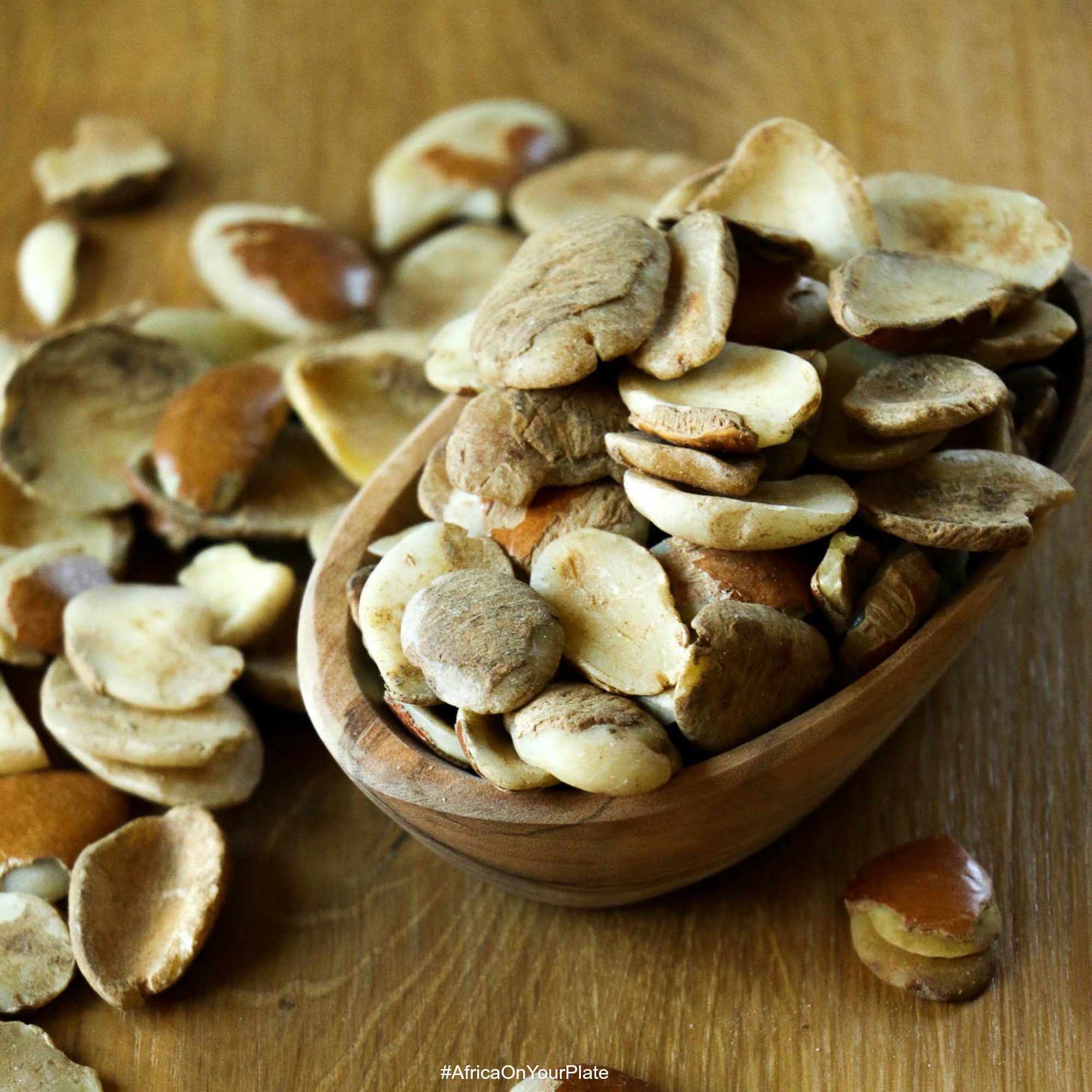 .
In most parts of West Africa, Wild Mango kernels are pounded and compressed into butter, or compacted into bars called dika cheese. This process prolongs the shelf-life of the Wild Mango kernels and it is not uncommon in rural West Africa, to find bars of compacted dika hanging over the kitchen hearth. My grandma always had a few over the firewood hearth in the kitchen, and she would always have one on the go, routinely used to flavour her soups and stews.
.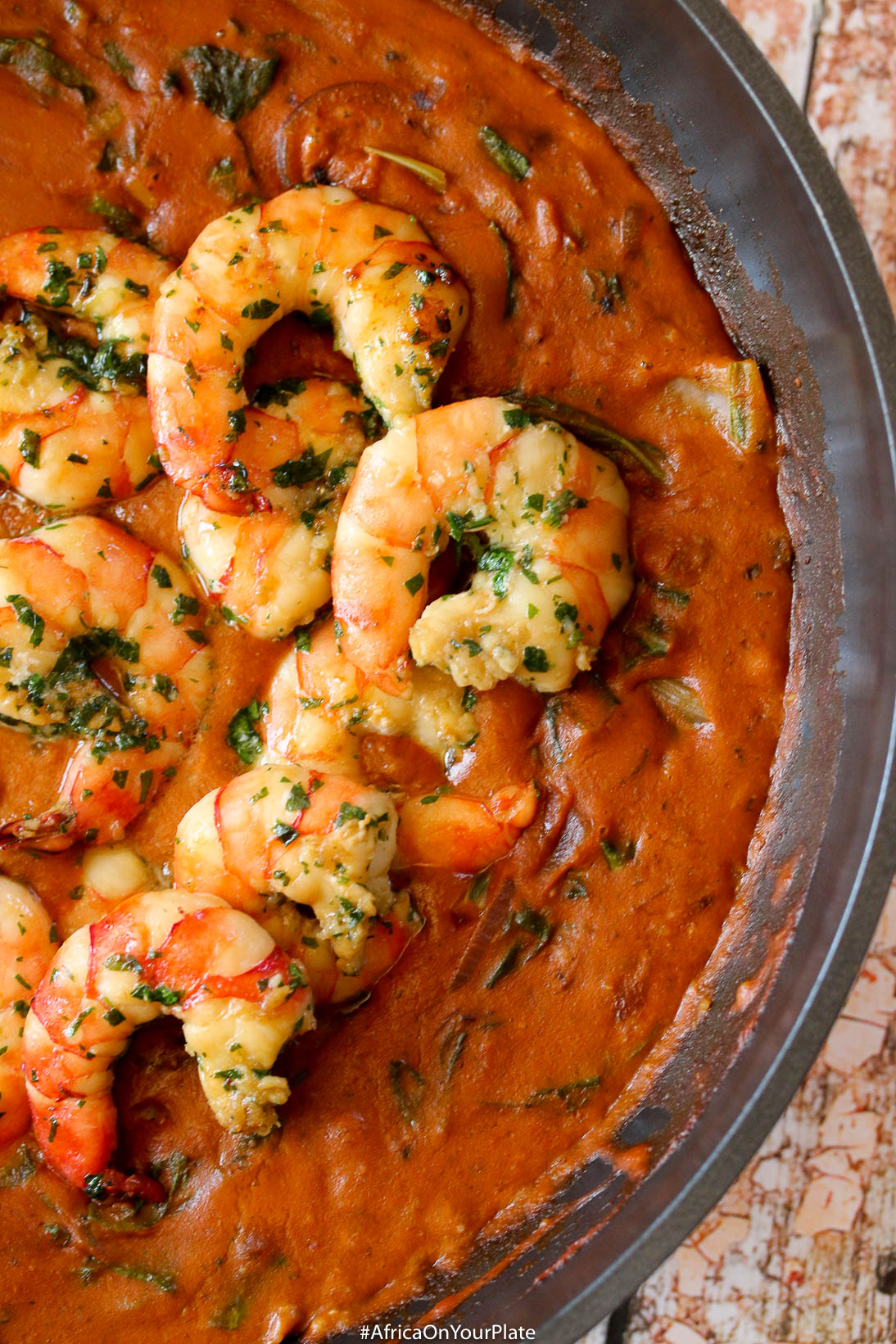 .
And oh boy, what a flavour! Ground Dika seeds are highly aromatic and lend a powerful umami flavour to cooking. It is also popularly used as a soup thickener because of its mucilaginous qualities. Basically, ground dika turns into a slimy texture when it comes in contact with a liquid, and this slimy texture is what thickens the soup or stew.
You know by now, that a recipe that holds the promise of umami is high up on my priority list. But, I've mentioned previously Le Hubs' relationship or lack thereof with slimy food. So bearing that in mind, I knew this wasn't going to be an easy sell, even with the nutritional benefits of the African Mango, its positive effects in lowering cholesterol and blood sugar, and the  weight-loss capabilities of the African Mango.  But I was damn going to try!
I started by grinding the African Mango seeds in my pantry. I prefer to store African Mango as whole seeds in my pantry as opposed to the ground powder, and I only grind the seeds when I need to use them. Storing them as whole seeds ensures the seeds stay fresher for longer, and also that they do not lose their mucilaginous property, which begins to diminishes once the seeds are ground. However, storing African Mango kernels as whole seeds is not a luxury that many in the diaspora can afford for two reasons: First, it is nigh on difficult to find whole seeds to purchase in the diaspora, and secondly, grinding the seeds is a right pain! Still, for the promise of freshness, I set myself…I mean.. Le Hub to the task of grinding, using a mortar and pestle and a good dose of brute force!
We soon abandoned the mortar and pestle for a blender. But this was not before I had turned to my mates for advice (shout out to my girls Adobi, Kutchies, Blessing & LC!). I probably would still be pounding African Mango seeds..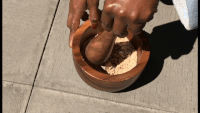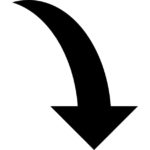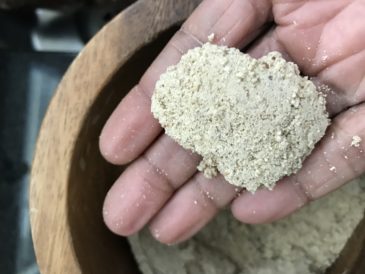 .
Top Tip
To achieve perfectly and finely ground kernels, use a spice or a coffee grinder. It saves a lot of time and hassle!.
.
.
.
.
I know Le Hub is partial to tiger prawns, so I decided to pair my African Mango sauce with pan-fried Lemon and Garlic marinated prawns. And it worked! I fried the prawns, and then added them to the sauce towards the end of the cooking. The kids looked at the sauce rather suspiciously at first, but were hooked, to varying degrees, at first taste.
.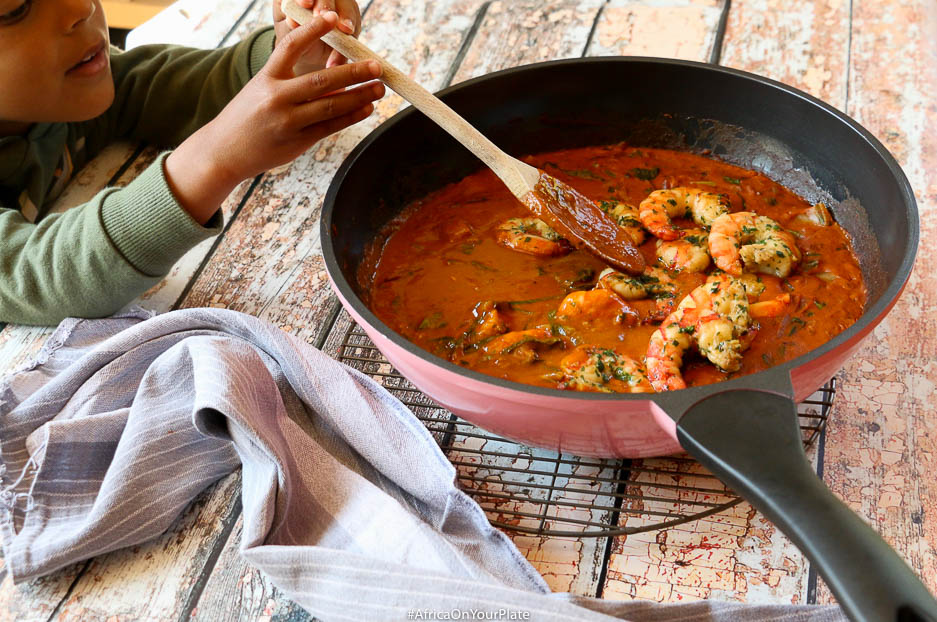 .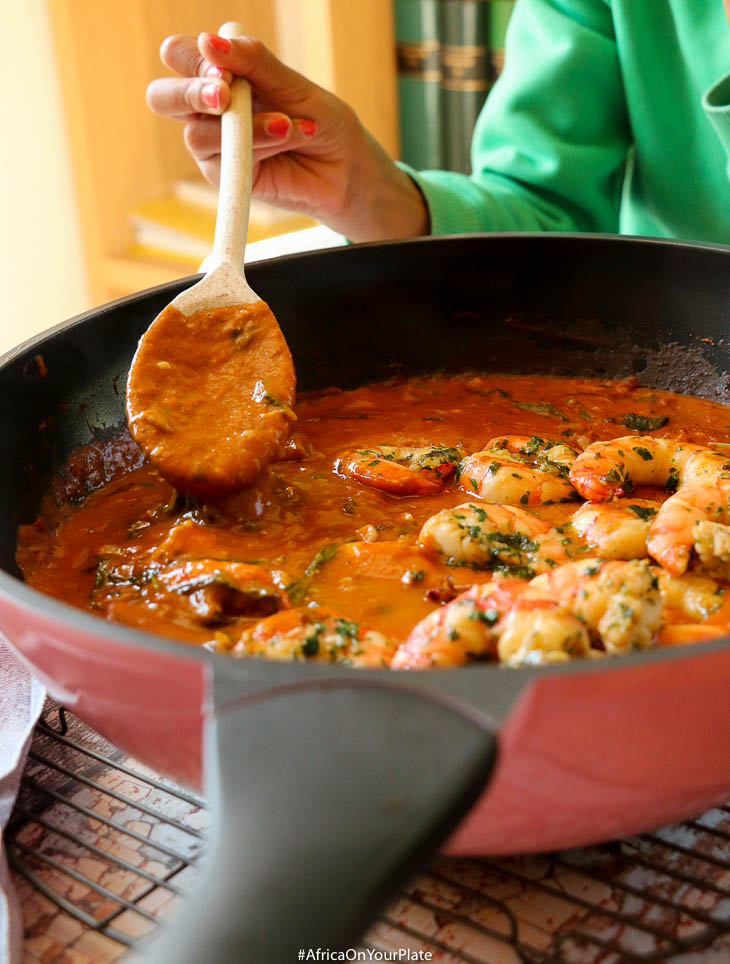 .
This recipe does not disappoint in taste or flavour, and if you are ready to take your taste buds on an exotic adventure, then look no further. This dish promises an adventure that is as flavoursome and nutritious as it is exotic. Which brings me to the next point – where to buy African Mango kernels outside of Africa? I had the good fortune of receiving some as a gift, however, Amazon do have a few sellers., and The Asian CookShop also has some in stock. If you do happen to know of other stockists in the US or in Europe, please do let me know!
Serve it with wild rice, as I did, or with brown rice, millet or steamed plantains.
.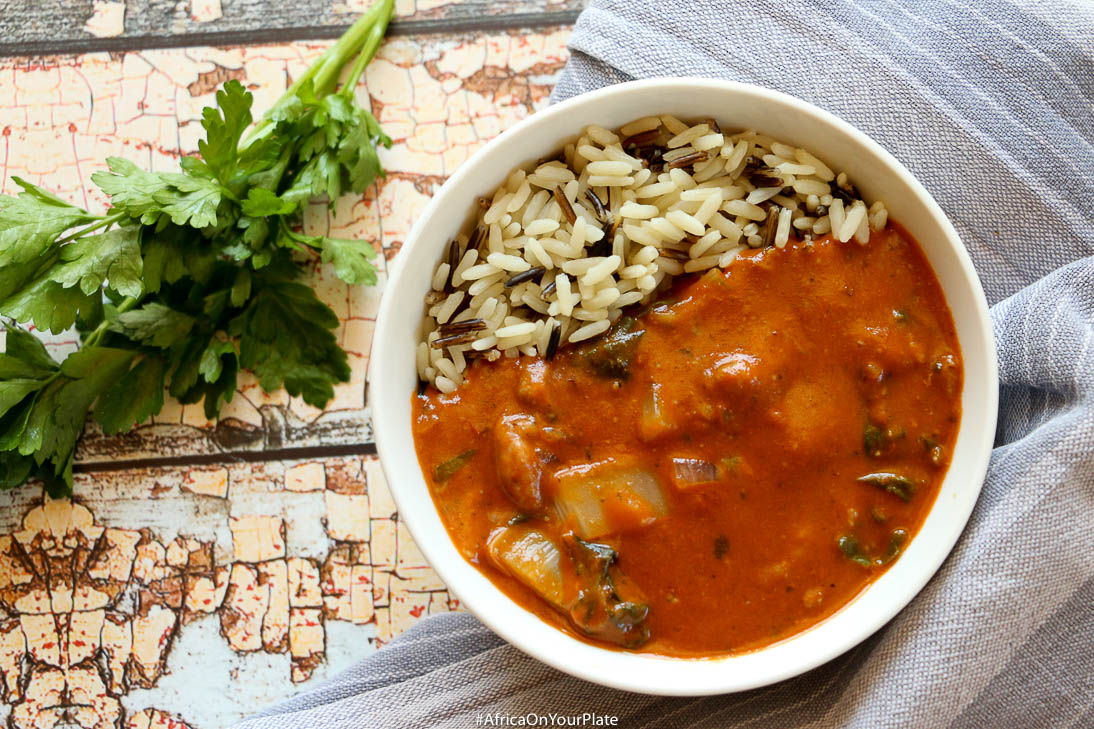 .
---
.
Heat a dutch oven, and when hot, add the palm oil. On a medium heat setting, fry the onions and garlic for 3 - 5 minutes until the onions are soft and translucent.

Add the tomato passata (or tomato concentrate / water) to the pan. Add the stock cube then bring to boil, then reduce the heat to low/medium and simmer covered for 20 minutes.

Taste, and season as appropriate, and add the coconut milk and the Swiss chard. , Cover and simmer for 10 minutes.

Then sprinkle the ground African Mango kernels while stirring all the time to avoid any lumps or clumps. Keep stirring until the African Mango kernels are thoroughly mixed into the sauce. Simmer uncovered for another 5 minutes, then enjoy!
The African Mango kernels change the viscosity of the sauce, making it thicker. As you add the ground kernels, keep an eye on the viscosity of the sauce as you stir. For a thicker sauce, use more ground African mango kernels, and for a thinner sauce, use less.
Is this recipe right for you?
.
Nutrition Facts
African Mango Kernel Sauce Recipe
Amount Per Serving
Calories 183
Calories from Fat 81
% Daily Value*
Total Fat 9g 14%
Sodium 274mg 11%
Potassium 606mg 17%
Total Carbohydrates 13g 4%
Protein 4g 8%
* Percent Daily Values are based on a 2000 calorie diet.
.
---
.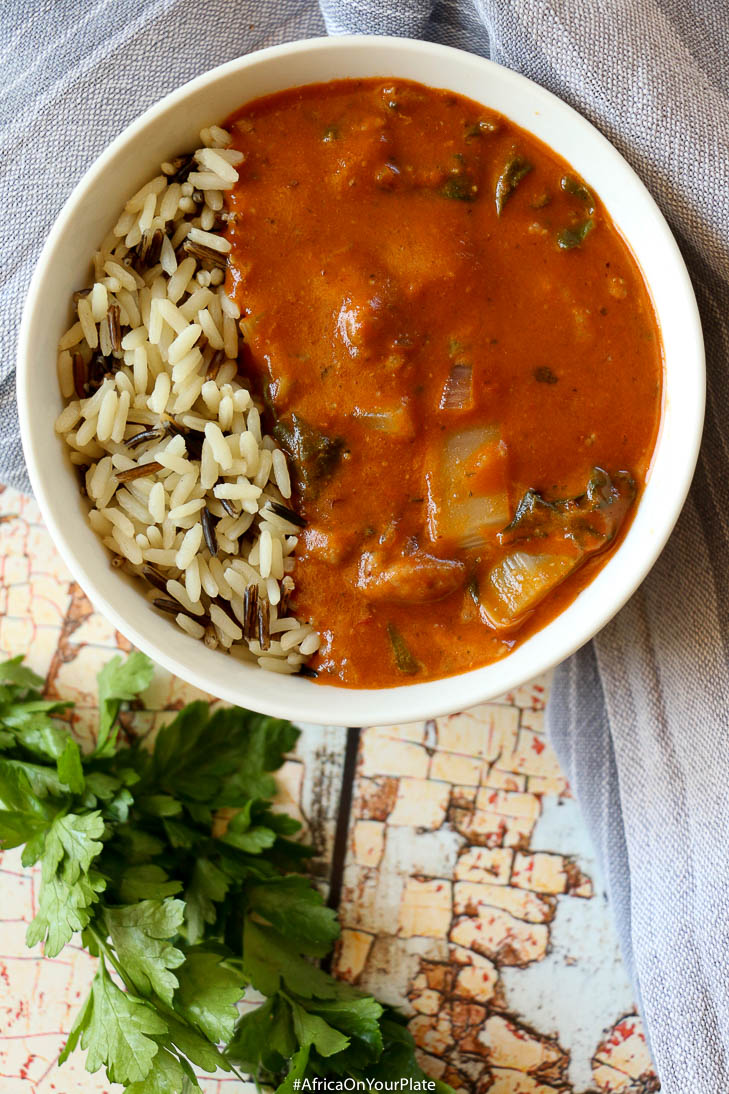 .
Let me know what you think!
.
Laters,
.
Emem..xo

Related posts: