Ripe Plantain is Slowly Simmered in a Herby and Cheesy Egg Mixture For a Nutrient-Dense & Healthy Breakfast Frittata
.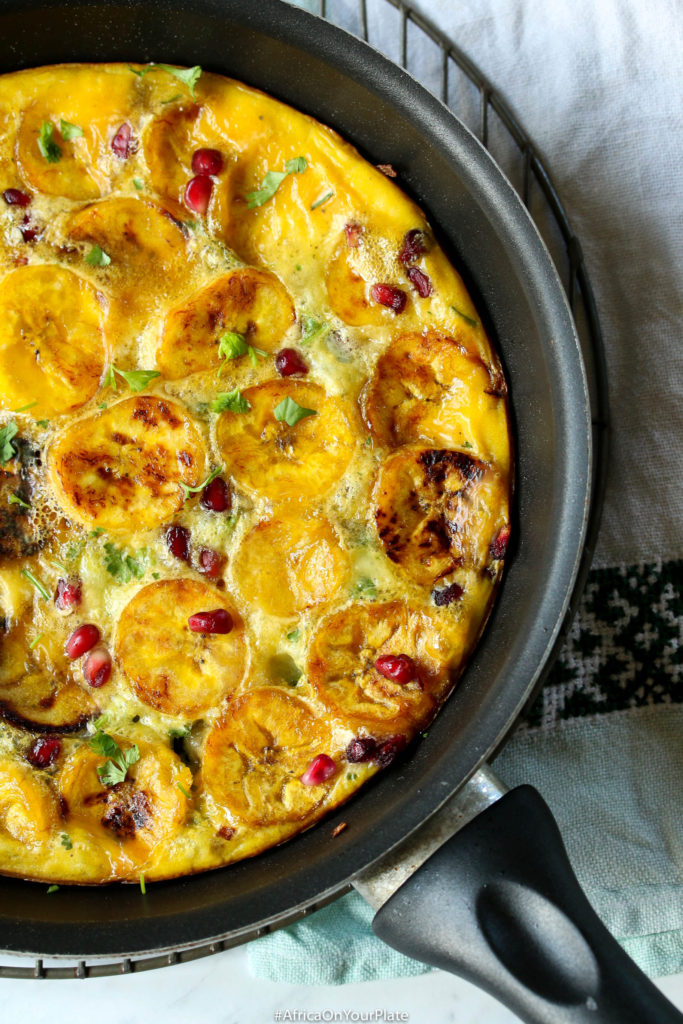 .
I remember the first time I decided to try my hands at eating plantain again after my diabetes diagnosis. This was a big moment for me. I grew up on plantains, I could swear I was weaned on plantain, and if I were ever to be stranded on an uninhabited island, I am sure I would survive if all I had was a bunch of plantains and some water… Duh, I guess we all would.. But you get my point right? So imagine my dismay, when my nutritionist, as part of my diabetes self-management, casually placed plantains on the list of foods to be consumed with care henceforth – sacrilege!
.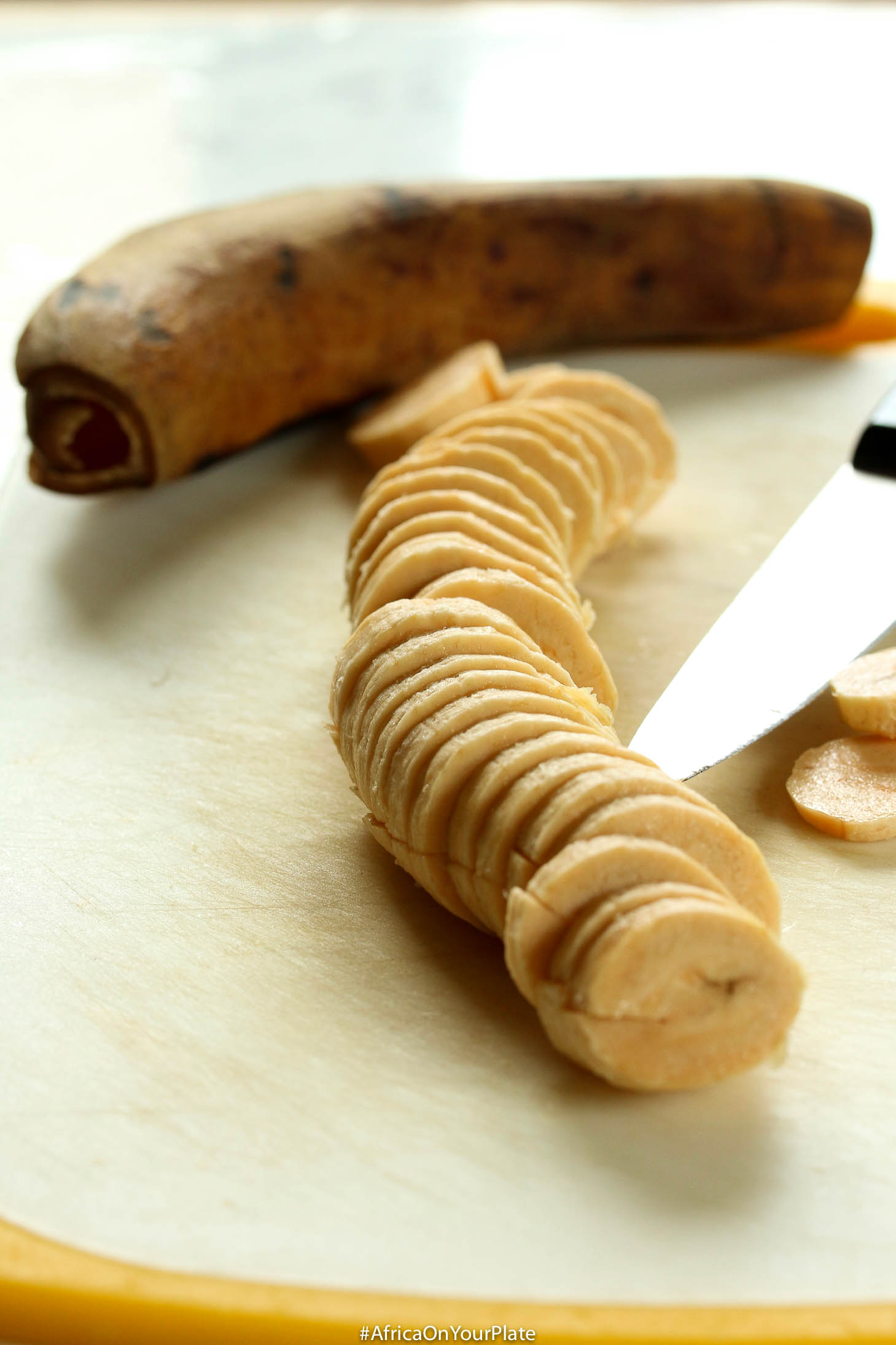 .
Feeling rather rebellious, I made a note to self to purchase some plantains at my next trip to the ethnic food store. As soon as my plantains were sufficiently ripened, I hastily steamed them, with some spinach and almost swallowed them whole. I probably must have, because two hours later, I was still dealing with a spike in blood sugar levels…
Anyway, I have since learned a few tricks which allow me, on occasion, to eat my cake and have it..still (literally). It's a happy halfway house that allows my blood sugar and I to co-exist harmoniously. Cravings satisfied and no blood sugar spikes. Bliss! And it goes like this;
First
I have learnt to count my carbs. 100g of plantain contains roughly about 30g of carbohydrate. Now, thats a lot of carbs relatively speaking, if you were to compare plantains to say, potatoes which have only about 18g of carbohydrate in 100g. So it is easy to overdose on the carb factor with plantain… so easy, which is bad news if one is diabetic!
Second
I have learnt to favour recipes that combine plantains with healthy fats which, in turn, help to slow down the breakdown of the carbs in plantain.
.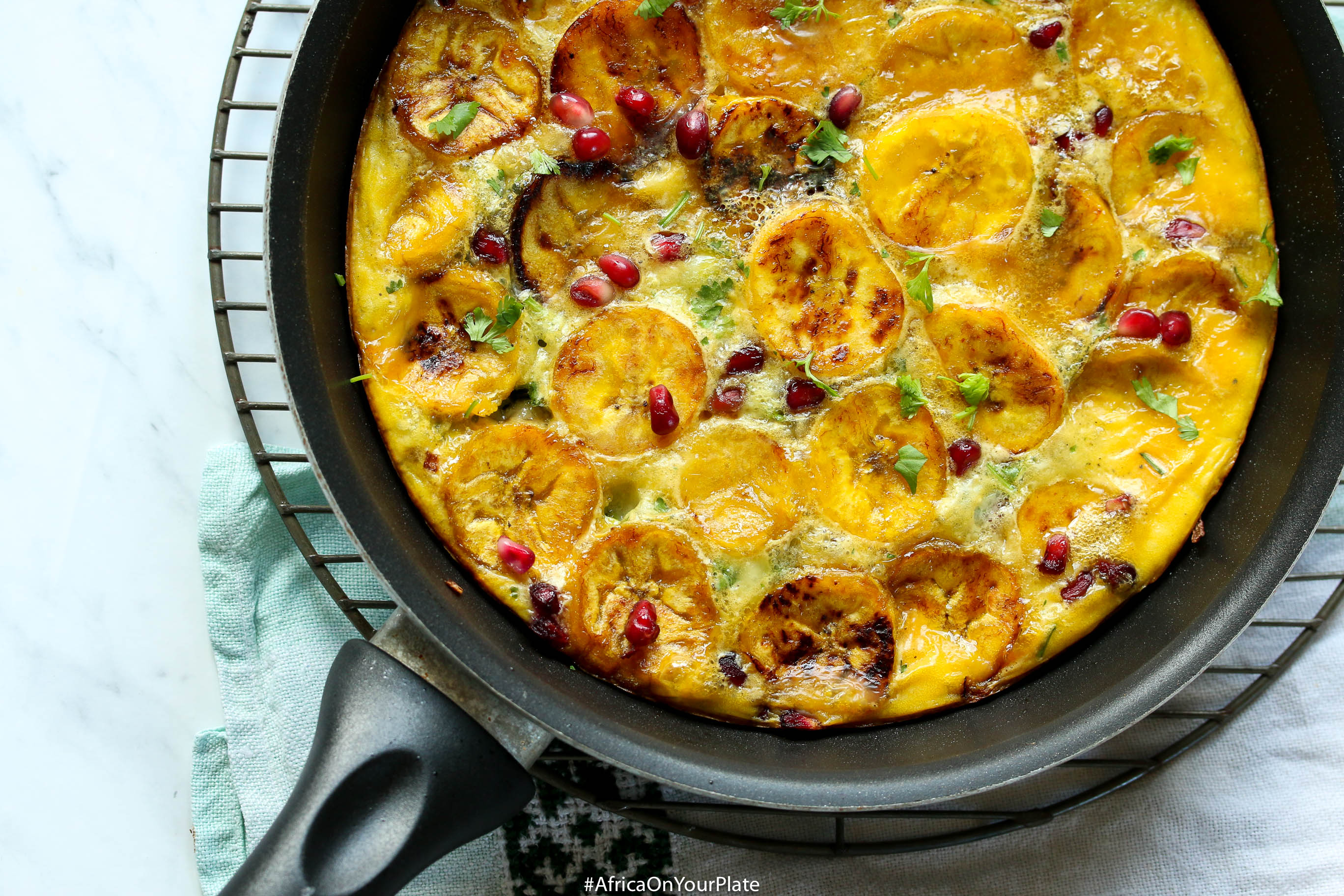 .
Plantains, especially green plantains however, do contain what is known as resistant starch and there is growing evidence that the consumption of resistant starch can lower blood sugar. I mean, whatever works right? We are all so individual. Either way, resistant starch or not, with plantain, I have learned to mind the carbs.
In this recipe, I have used ripe plantains, but to make it diabetic-friendly, substitute the ripe plantains with green plantain. The flavours of the fried plantains slowly simmered on the hob in a herby and cheesy egg mixture are just out of out of this world.
.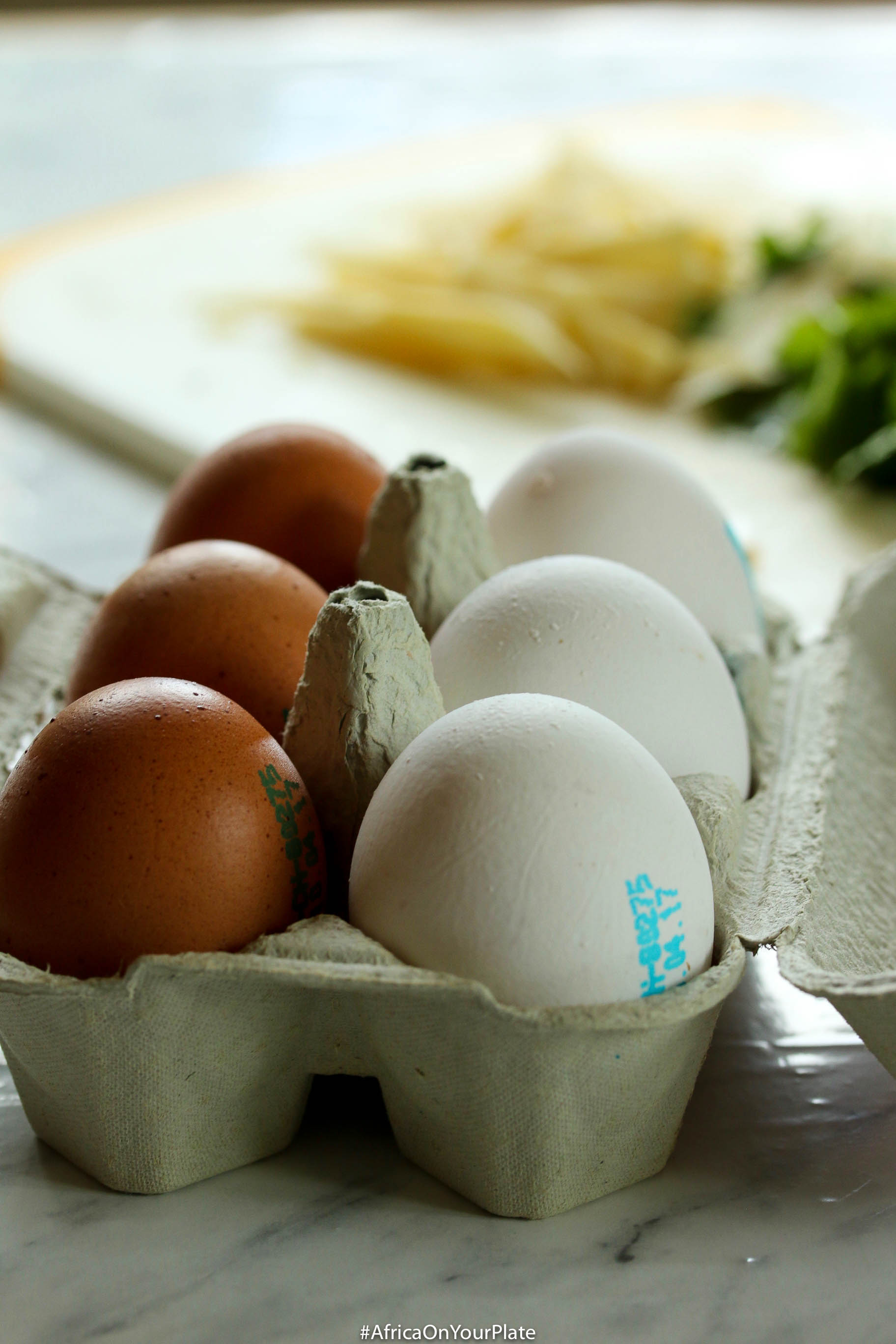 .
Talking about cheese, the cheese does really matter in this dish, and brings all the flavours together. I am partial to Gruyère because Gruyère has that nutty, slightly salty flavour that isn't overbearing, which is perfect for this dish. If you can't get hold of Gruyère , you can substitute with Jarlsberg cheese, Beaufort or Emmentaler.
.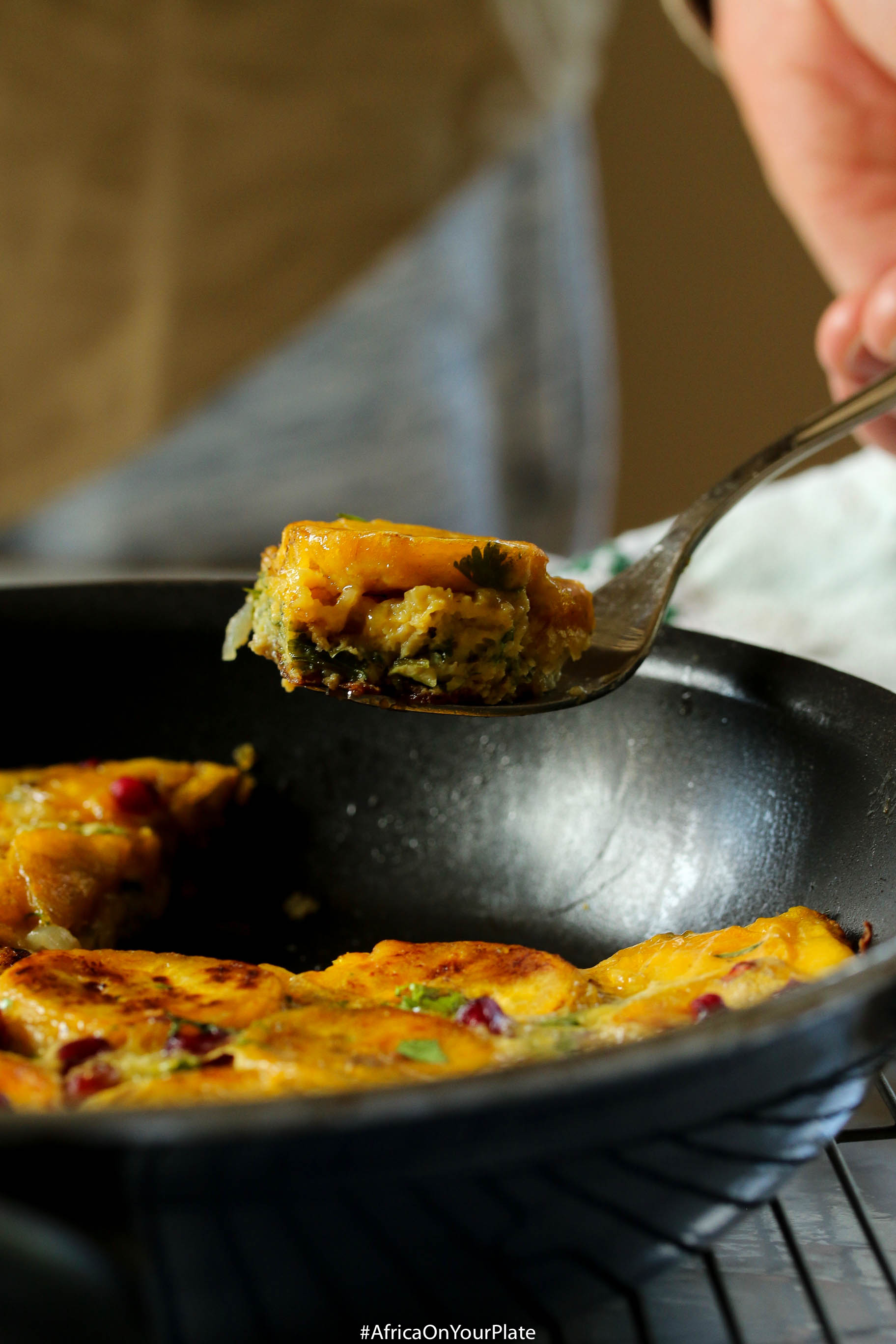 .
To add a bit of crunch, and up the anti-oxidant factor, I sprinkled a handful of pomegranate seeds towards the end of the cooking.
---
.
Thinly slice the plantains so each slice is about 5mm thick. Heat the skillet and when hot, add 2 tablespoons of olive oil and fry the slices of plantain for 2 - 3 minutes a side until soft and golden. Remove from heat and set aside.

Heat the remaining oil on medium-high heat, then add the onions and garlic and saute for 3 - 5 minutes, stirring frequently until the onions are soft and translucent, and the garlic fragrant. Remove from heat.

In a separate bowl, mix together the eggs, chopped cilantro, grated cheese, milk, salt and pepper. Add in the onion mixture, and stir until combined. Pour the mixture into the skillet with the onions and garlic.

Reduce the heat on the hob to low, and cook on the hob for 40 - 45 minutes until a fork inserted into the middle of the pie comes out clean. The frittata will rise while it is cooking, but will settle back down once you remove it from the heat.

When cooked, remove from the heat, sprinkle the handful of pomegranate seeds and allow to rest for 5 minutes before serving.
.
Is this recipe right for you?
.
Nutrition Facts
One-Pan Plantain and Egg Breakfast Fritatta
Amount Per Serving
Calories 420
Calories from Fat 252
% Daily Value*
Total Fat 28g 43%
Cholesterol 383mg 128%
Sodium 230mg 10%
Potassium 528mg 15%
Total Carbohydrates 26g 9%
Protein 18g 36%
* Percent Daily Values are based on a 2000 calorie diet.
.
---
.